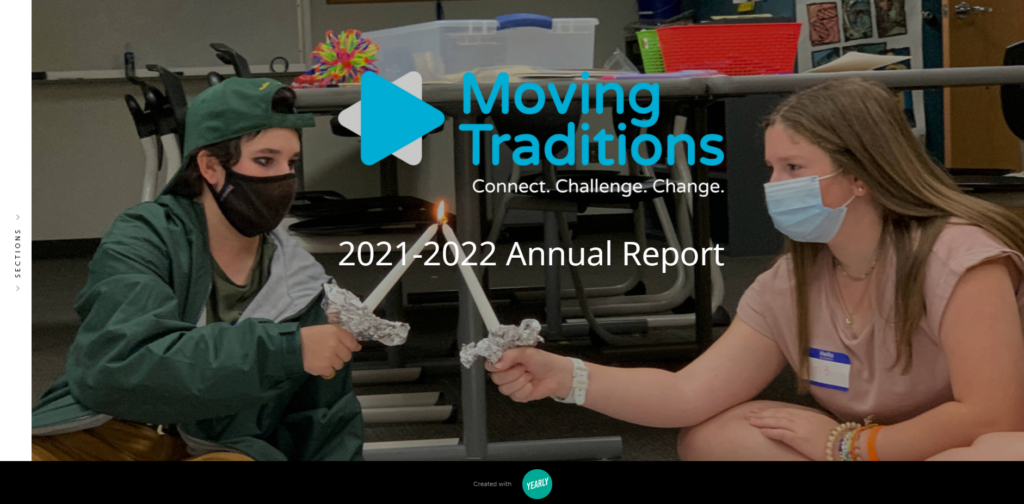 Dear Friends,
During these long months of the pandemic, we have learned, unequivocally, that Jewish values and community can help preteens and teens to build skills to navigate life's challenges—and to thrive in the face of adversity.
Moving Traditions' research data featured in our latest annual report show this—Jewish youth, their parents, clergy, and Jewish educators tell us that our programs and resources bring them meaning and connection.
Meaning and connection—social-emotional learning rooted in Jewish values—help our preteens and teens successfully navigate uncertainty, social isolation, and for many, struggles with stress, anxiety, and mental health.
At the heart of our work, Moving Traditions emboldens preteens and teens to pursue three core Jewish values to grow with resilience, as they:
Build personal wholeness (shleimut)—embracing the fullness of who they are and who they want to become, as individuals.
Create caring connections (hesed)—building healthy relationships with friends and family based on respect and compassion.
Pursue justice (tzedek)—working together to create a fair and just society.
Together with you, we are making a difference in the lives of preteens and teens across North America—which we hope comes through loud and clear in this annual report.
Since 2005, Moving Traditions has empowered more than 28,000 preteens and teens by partnering with more than 500 Jewish institutions of all affiliations.
In the coming year, with your help, Moving Traditions will embolden many more Jewish youths to thrive by strengthening themselves, their relationships, and our society.
Please connect with our programs and give generously so that Moving Traditions can continue to strengthen Jewish youth and Jewish life.
Warmly,