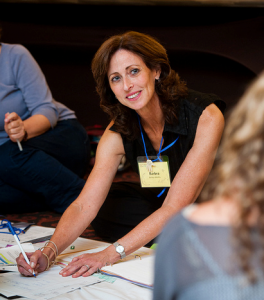 Moving Traditions offers National Training Conferences for Teen Programs and professional development seminars and workshops. Our training and professional development team is comprised of Moving Traditions staff and educators, psychologists, guidance counselors, and social workers who understand the lives of teens, many of whom have facilitated our programs.
The National Training Conferences for Teen Programs are in-depth, three-day training experiences that develop new cadres of group leaders to facilitate Rosh Hodesh and Shevet, our groups for middle and high school girls and boys. The conferences are consistently ranked highly by participants.
Moving Traditions also provides Professional Development to national and local organizations. We train mentors and educators to gain the skills that are essential to connect pre-teens and teens to the Jewish stories, texts, and rituals that speak to their challenges as young adults.