By JUF NEWS, June 6, 2017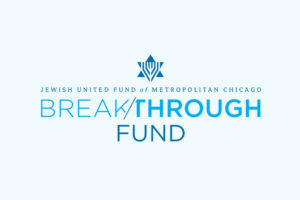 For the fourth straight year, JUF's Breakthrough Fund is funding leading-edge local programs and initiatives that meet local human needs, engage Chicagoans Jewishly, and strengthen Jewish communities in Israel.

This summer, a total of $1.12 million will be awarded to programs that focus on a range of themes, including erasing barriers to employment and economic achievement for historically under-employed Israelis; providing opportunities for the Jewish LGBTQ community, teens and young couples to connect with Israel; using technology to improve mental health; creating non-traditional communities of Jewish learning, and more.

Some $863,000 will fund 13 new initiatives, with awards ranging from one-year grants of $10,000 to multi-year grants totaling $100,000; an additional $256,000 will support five programs in their second year of multi-year grants awarded in 2016.