By Selah Maya Zighelboim, Jewish Exponent, December 20, 2017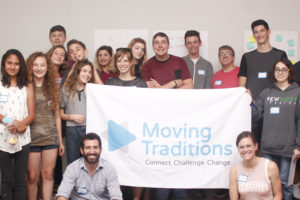 In one of her Moving Traditions groups, 12-year-old Haley Adelman cut out pictures of girls from magazines.
The purpose of this exercise, like much of the Moving Traditions curriculum, is to provoke questions and discussions about gender and identity from preteens and teenagers.
"We learned that girls can be whatever they want to be, and they can look whatever and however they want," Haley said.
Moving Traditions is a national organization based in Jenkintown that provides programming for students sixth through 12th grade. Moving Traditions partners with other organizations throughout the country, such as synagogues, and trains their educators to teach its curriculum.
The groups provide a space for teens to talk and ask questions about identity and gender — all within a Jewish context. Much of the curriculum, for example, covers heroines from the Torah. The purpose of the organization is to adapt and "move" the tradition to make it more meaningful for the students.