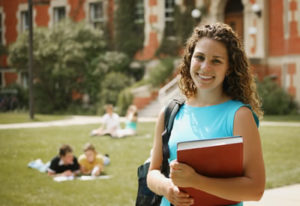 Calling 11th and 12th graders who serve as Jewish student leaders on their high school campuses!
Join this inaugural opportunity to engage in dynamic and authentic conversations, explore identity, equity, justice, and other current issues related to Jewish identity and values. Fellows Participants will also be empowered to bring these issues and conversations back to their own campuses.
ABOUT THE PROGRAM
Meeting monthly October through May, participants will be guided by an experienced Jewish educator/group leader, who will support teen leaders in conversation and preparing meaningful programs to bring back to the groups they lead at their schools. They will experience sessions from a variety of Moving Traditions' programs, and then brainstorm ways together to share programs with their peers.
In addition to their group leader, the group will also be supported by an advisor, a Moving Traditions lay leader, who will be available to help connect them to speakers from other Jewish organizations and causes to bring to their campuses to supplement the Moving Traditions program content.
At the end of the program, participants will receive certificates acknowledging what they have accomplished on their campus as an LA Jewish Teen Leader.
GETTING STARTED
Enrollment is free of charge. This program is generously sponsored by donors within our community.
Group Leader: Ruthie Matanky Skaist
Hi, my name is Ruthie! I am an artist and educator. I moved to Los Angeles ten years ago to teach Judaic studies at Shalhevet high school, and in 2016 I decided to pursue becoming an artist professionally. I left formal education but have stayed connected to teaching and learning through private tutoring, workshops, and a big move from 2017-2019. My husband, Tuli and I moved to Istanbul, Turkey for those two years where we served the Jewish community on behalf of the Joint Distribution Committee, doing education and welfare work. We came back to LA in September of 2019 where I picked up my art and education career again through private commissions and teaching art lessons for kids. Then March 2020 happened, and like the much of the world we were also stuck at home, but with a new baby born as the pandemic hit in Los Angeles. Since then, I've continued to take private commissions and tutor, but I am a full-time stay at home parent to our one and half year old son, Adir (and love just about every minute!). I'm excited to join the Moving Traditions team and learn with an amazing group of teens.