Rosh Hodesh is an experiential education program that uses Jewish teachings and practices to give girls a place to feel safe, articulate their deepest concerns, consider the impact of gender on their daily lives, have fun, and be 'real' with their peers.
We train adult facilitators to lead Rosh Hodesh groups — for girls between the ages of 13-18 at our partner sites (synagogues, schools, and JCCs).
Through discussion, arts & crafts, creative ritual, games, and drama, the groups draw on Jewish values and a gender lens to explore the issues the girls care about most, such as body image, friendship, relationships, family, competition, and stress.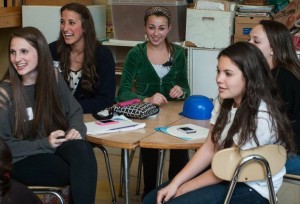 Rosh Hodesh was launched in 2002 as a response to two challenges, still faced by girls two decades later:
a majority of girls drop out of Jewish communal life after bat mitzvah.
girls' self-concept plummets as they enter adolescence.
Developed by educators, rabbis, social workers, and psychologists to address the real needs of teen girls within a rich Jewish context, Rosh Hodesh was the first program to draw on Jewish teachings and traditions to keep girls healthy and whole, instilling in them the ability to counter narrow views of gender in popular culture.