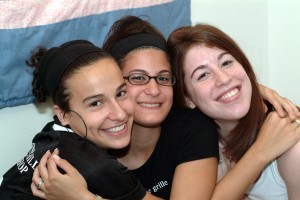 Moving Traditions works directly with you to start Rosh Hodesh, Shevet and Tzelem groups for Jewish teens in your community. Our partners come from across the denominations and include synagogues, day schools, JCCs, and other Jewish institutions.
Institutions become partners with Moving Traditions by purchasing a license to run the programs.  Once this license is purchased, Moving Traditions works with its partners to train group leaders and launch the program successfully for your teens.
Each partner receives access to our online curricular materials with step-by-step guidance and meeting plans.  Each group leader receives experiential training and ongoing support.
To start a Rosh Hodesh, Shevet or Tzelem group:
Contact Moving Traditions — use the contact information below.
Find a group leader — our staff will guide you.
Enlist the support of clergy, staff, lay leaders, and parents in your community.
Send your group leader to Moving Traditions' summer training conference.
Recruit participants in one grade (recommended) between 8th and 12th.
Identify where the groups will meet — online or in-person (we suggest in participants' homes if in-person).
Determine the fee the group will charge members to participate (typically between $180-$360 for ten meetings).
Promote the groups through social media, your mailing list, newsletter, program guide, calendar, website, personal contacts and with the help of interested parents.
Communicate with parents about the topics that each month's session will address.
Benefit from Moving Traditions' ongoing consulting and support.
To learn more about bringing our programs to your community, and to receive sample materials, please contact Sarah Fox, Project Director, at (215) 887-4511 x106.