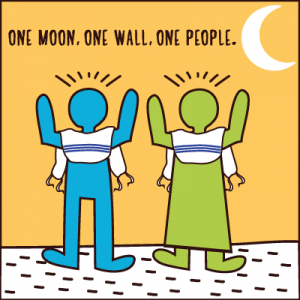 How do we generate tween and teen thinking about the Wall?
The ongoing struggle for Jewish women to have full religious freedom at the Western Wall — including the ability to read Torah, wear tallit, and sing aloud — is a multilayered issue that touches on religious pluralism, the unique nature of the "church-state" relationship in Israel, the political history of Jerusalem's Old City, and the evolving role of women's leadership in each Jewish denomination.
In speaking to tweens and teens about the news concerning the Wall and connecting them to the movement in solidarity with the Women of the Wall, we do not, in any way, wish to minimize the political and religious complexity of the current struggle.
Our approach is grounded in our belief teens have a deep capacity not only to understand the religious and political issues involved at the Western Wall, but to contribute to our collective thinking.
We want to listen to the voices of teens as representatives of a generation with different  formative experiences than our own who will determine in decades to come the terms for participation in the holy site.
Rather than tell teens to be acolytes of adult leaders, our goal is to generate thinking among teens about an issue that a number of them are already thinking about and thus involve them in seeking creative solutions to the current inequity.
Resources: