Customized Training for Jewish Organizations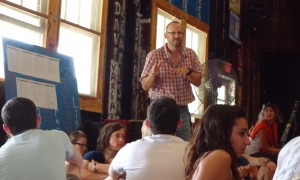 Moving Traditions trains mentors and educators in the essential skills required to connect pre-teens and teens to the Jewish stories, texts, and rituals that speak to their challenges as young adults.
Bringing research to light, sharing best practices, and conveying the insights from field-tested curricula, the Moving Traditions team is able to share a pioneering approach for girls and boys.
Moving Traditions has provided professional training and development for more than a dozen organizations, including national organizations such as:
JCCA (Jewish Community Center Association) Merrin Teen Fellows Program
Conservative Movement's Jewish Educator's Assembly
BBYO International Convention Staff Training
Reform Movement's NFTY Youth Worker Convention
Davidson School of Education – Jewish Theological Seminary
Young Judaea's National Teen Camp – Tel Yehuda
Camp Alonim
JDC – Joint Distribution Committee – Visiting Educator's Program
Hillel's CLIP Internship Program
In addition, Moving Traditions' staff teach at a wide range of local events and conferences.
To learn more about bringing Moving Traditions' professional development to your organization, please contact Robyn Levitan, Director of Program Development, National Counsel, at rlevitan@movingtraditions.org.