Tzelem is a monthly group for Jewish trans, nonbinary, genderqueer and LGBTQ+ teens.
The Tzelem program offers a safe, supportive space to make new friends and explore issues like:
Life transitions
Healthy Relationships
Body Positivity
Self-Compassion
Mental Health
Jewish Identity
And much more!
Philadelphia Tzelem currently meets once per month outdoors. Upcoming dates for the fall: September 19, October 17, and November 14 from 2:00-4:00 p.m. EST.
*Additional dates will be scheduled closer to the time.
For youth ages 13 – 17
Please email ggodel@jfcsphilly.org for access to the zoom link to join a session.
Click here to download the program flyer.
Group Leader Galia Godel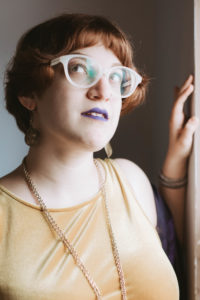 Galia Godel (she/her) is a queer Philadelphia-based sexuality educator and Jewish community leader. She has a Masters in Human Sexuality Education from Widener University, and is the program manager of the LGBTQ Initiative at Jewish Family and Children's Service of Greater Philadelphia. Galia provides LGBTQ cultural competency trainings, diversity and inclusion workshops for youth and adults, runs Jewish LGBTQ programming, and directs J.Proud, the Philadelphia consortium of Jewish organizations committed to LGBTQ inclusion. In her spare time, she reads fanfiction and works as a communication coach/community mediator.

Contact
Stay tuned for more information on the Philadelphia Tzelem Taste Of event coming this fall. For additional information about this program and to access the Zoom link, please contact:
Galia Godel ggodel@jfcsphilly.org
Eve Berger eberger@movingtraditions.org
This Tzelem group is a collaboration between Jewish Family and Children's Service of Greater Philadelphia, Keshet, and Moving Traditions.