Discover Moving Traditions' groups for teens!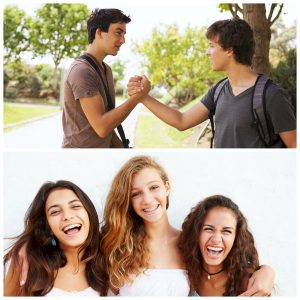 Looking for a way for your teen to…
Connect with other Jewish teens AND experience Judaism as relevant to their life?
Have a safe and sacred space to explore fundamental questions of identity and society and to challenge traditional gender codes and expectations?
Move through their adolescence feeling empowered, growing into happy, healthy adults?
In Moving Traditions Community Groups, participants experience our signature programs, Rosh Hodesh for girls and Shevet for guys, in single-gender gatherings made up of 8–12 teens in 8th and 9th grade. The groups meet for two hours each month during the academic year in safe, fun, and supportive spaces to engage in meaningful conversations—where a trained adult mentor helps teens consider Jewish values as they explore the issues they care about most, such as relationships, social pressures, and stress.
Program Partners
Scarsdale Synagogue Temples Tremont & Emanu-El
2 Ogden Rd, Scarsdale, NY 10583
Contact: Rabbi Ilyse Glickman (rabbiglickman@sstte.org) (914) 725-5175
Temple Israel Center
280 Old Mamaroneck Rd, White Plains, NY 10605
Contact: Mara Braunfeld (m.braunfeld@templeisraelcenter.org) (914) 948-2800
Westchester Reform Temple
255 Mamaroneck Rd, Scarsdale, NY 10583
Contact: Felicia Block (felicia.block@wrtemple.org) (914) 723-7727
Group Leader
Josh Ull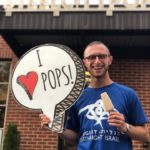 Originally from Edison, NJ, Josh Ull is thrilled to serve as the Group Leader for Shevet for our Westchester group During the week, Josh is the High School Director of Student Life at The Leffell School (formerly Schechter Westchester). Prior to making the city his home, Josh was the NJ Regional Director for USY and still spends his summers leading USY on Wheels buses across the country. Josh is passionate about Jewish education and ensuring high school teens benefit from transformative experiences. From meaningful conversations to wacky games, Josh hopes to empower teens to discover tools that will allow them to excel in the world. Josh loves hip-hop, chocolate pudding, crashing weddings, and most of all – Moving Traditions! He can't wait to meet you!
Community Group Meetings
Meetings will take place on Monday evenings from 5:00 to 7:00 PM rotating between our three partnering synagogues:
November 4, 2019 Scarsdale Synagogue Temples Tremont & Emanu-El
December 9, 2019 Scarsdale Synagogue Temples Tremont & Emanu-El
January 13, 2019 Scarsdale Synagogue Temples Tremont & Emanu-El
February 10, 2019 Temple Israel Center
March 16, 2019 Temple Israel Center
April 27, 2019 Westchester Reform Temple
May 18, 2019 Westchester Reform Temple
For more information about this program please contact Stacy Shapiro (sshapiro@movingtraditions.org), New York Program Assistant, (914) 420-3212.