On April 25, 2017, Moving Traditions held an interactive evening celebrating two important milestones—our bat mitzvah year and the tenure and accomplishments of our founding Board Chair, Sally Gottesman—and dedicating the Carol Lowenstein Moving Traditions B'nai Mitzvah Training Institute.
From Melanie's beautiful words honoring her mother, Carol Lowenstein as her family dedicated the Carol Lowenstein Moving Traditions B'nai Mitzvah Training Institute to the experiential b'nai mitzvah activity led by Rabbi Daniel Brenner, Chief of Education and Program, to the many, many accolades for Sally Gottesman from Alisa Doctoroff, Board Chair Hope Suttin, and others, to the blessing circle led by Rabbi Tamara Cohen, Chief of Innovation, the Benefit was like no other.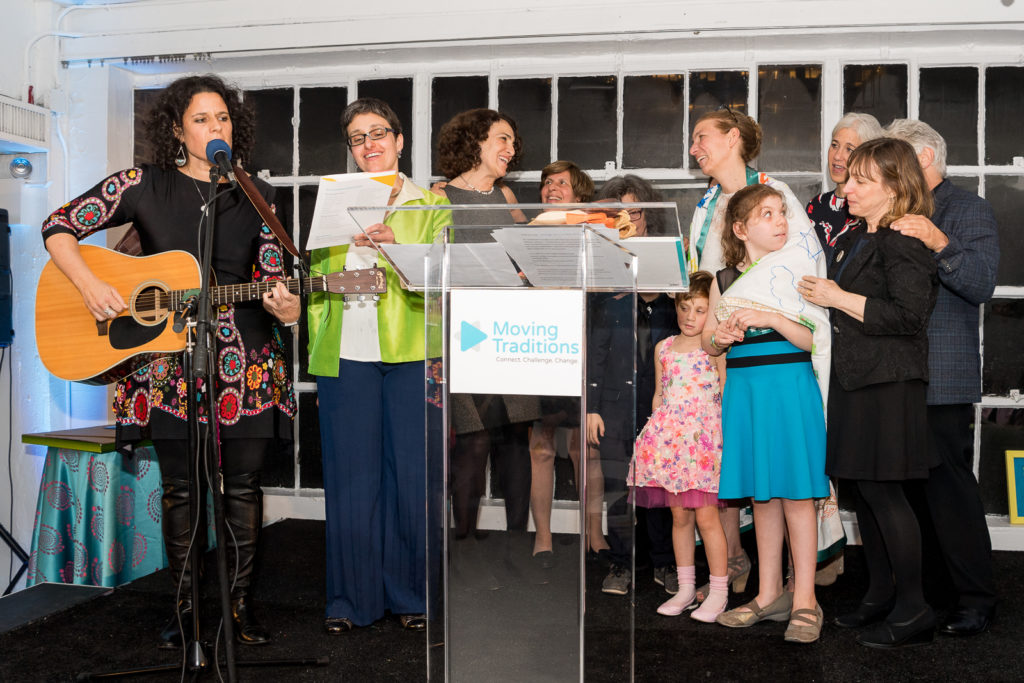 For more pictures from the Benefit, please visit our Facebook page.
Blessing Sally Gottesman
Honoring Sally Gottesman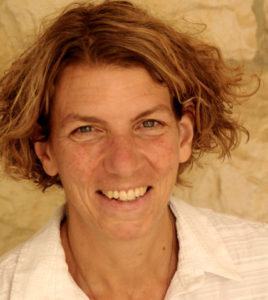 Moving Traditions Founding Board Chair Sally Gottesman is known for her passion, strategic thinking, and warmth, and most of all for her commitment to Judaism, gender, and social justice. Sally's career as a changemaker began when she and her parents, Paula and Jerry, petitioned for Sally to become the first Saturday morning bat mitzvah at Temple Shomrei Emunah in Montclair, New Jersey.
Who better than Sally to found a national organization dedicated to inspiring people—and specifically teens—to experience Judaism as a force for good?
Sally's experience as a consultant to Jewish organizations and at KPMG Peat Marwick, her degree from Yale's School of Management, and her leadership on the Board of her family business, Edison Properties, LLC., have made Sally a valuable and indomitable force as she built Moving Traditions.
Sally's commitment to Judaism and gender issues is not limited to Moving Traditions. In addition to working for the Israel Women's Network and New Israel Fund, Sally served on the Boards of American Jewish World Service, Americans for Peace Now, Congregation B'nai Jeshurun, Jewish Funders Network, and Jewish Women's Archive. Currently, Sally Chairs the Board of Encounter, dedicated to "cultivating informed and constructive Jewish leadership on the Israeli-Palestinian conflict through immersive travel experiences to the West Bank and East Jerusalem."
In typical fashion, when confronted with a family member's rare disease, Sally committed herself to increasing funding and focusing the research for Neurofibromatosis (NF-1) through the Children's Tumor Foundation and establishing the Neurofibromatosis Therapeutic Acceleration Program (N-TAP) at Johns Hopkins University.
Sally's greatest love is for her three children, Alice, Ezra, and Charlotte, who inspire her commitment to Judaism and justice.
The Carol Lowenstein Moving Traditions B'nai Mitzvah Institute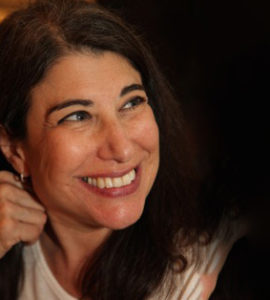 When people met Carol Lowenstein they immediately felt touched by her warmth, compassion, and generosity of spirit. Carol gave of herself to the causes she believed in, including Moving Traditions, whose Rosh Hodesh program for teen girls made a deep impact on her daughter, Melanie.
As the Board member overseeing b'nai mitzvah at her temple, Carol was inspired by Moving Traditions' vision of a new program to help b'nai mitzvah tweens and their parents draw on Jewish wisdom to explore the social-emotional challenges of becoming a teen.
In loving memory, Carol's husband Michael and their family and friends are establishing the Carol Lowenstein Moving Traditions B'nai Mitzvah Training Institute to bring Carol's legacy to Jewish educators and communities across the United States.
The Institute is a key factor in the success of Moving Traditions' new program. At the Benefit, we had the opportunity to experience together how Moving Traditions helps tweens and their parents explore what it means to become a Jewish teen in America.