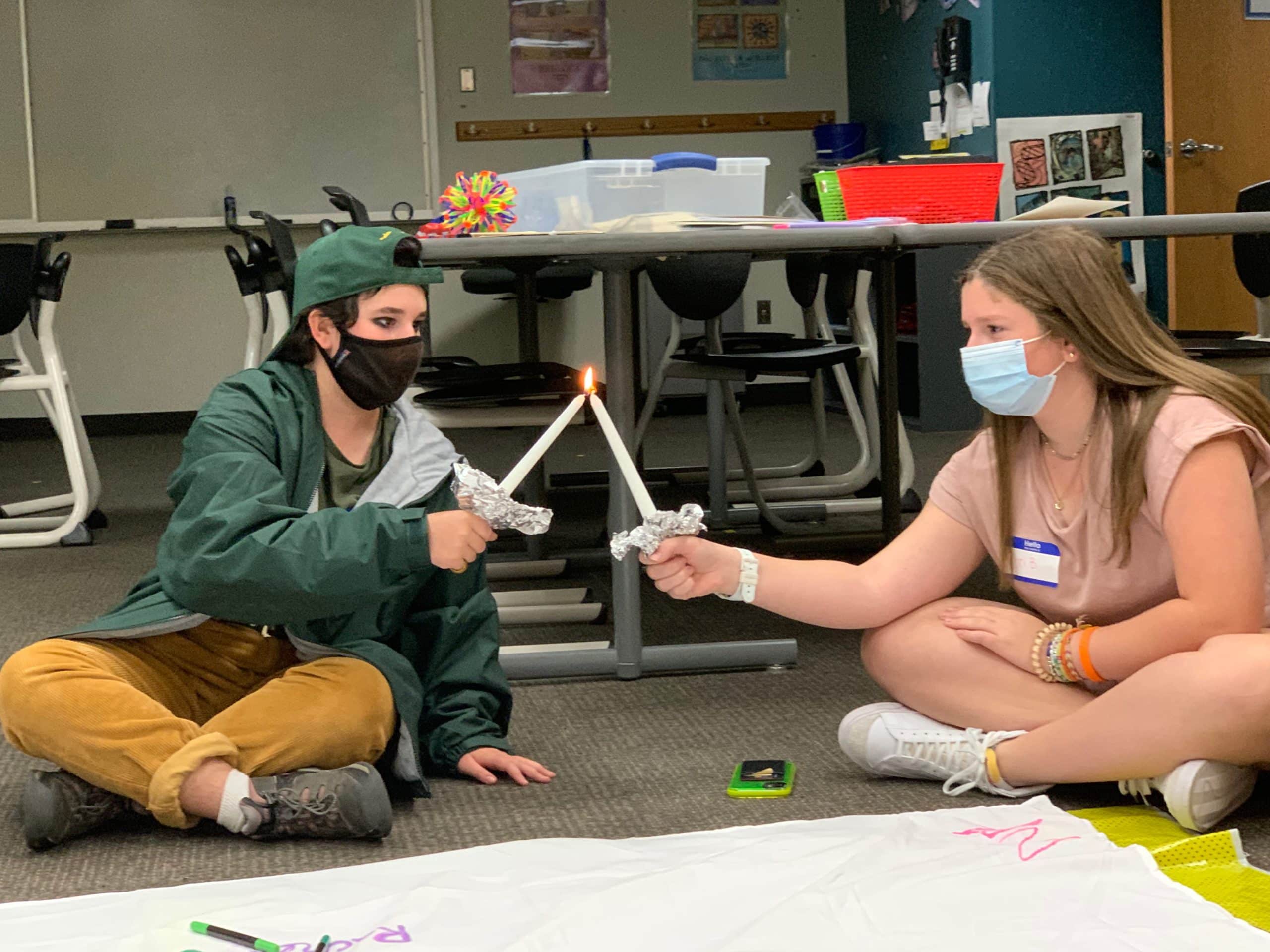 Since its founding in January 2005, Moving Traditions has championed impact-focused youth-serving programs at the intersection of gender, wellbeing, and Judaism. Along the way, we've partnered with hundreds of synagogues, JCCs, camps, day schools, and emerging organizations and we have trained thousands of educators and clergy to meet the needs of Jewish preteens and teens. Today, 17 years of research and careful program evaluation shows just how well Moving Traditions strengthens Jewish educators, emboldens preteens and teens, and engages families.
Moving Traditions from Past to Present
Moving Traditions is founded by Board Chair Sally Gottesman and CEO Deborah Meyer.
Its primary original work is supporting Jewish girls through expanding Rosh Hodesh: It's a Girl Thing!, originally conceived and launched by Kolot: The Reconstructionist Rabbinical College's Center for Jewish Women's and Gender Studies.
Moving Traditions trains hundreds of mentors and educators to lead Rosh Hodesh groups.
Engaging Jewish Teenage Boys: A Call to Action is released.
Includes a pilot curriculum for groups, now called Shevet, that support Jewish boys.
Moving Traditions partners with the National Museum of American Jewish History to launch the traveling exhibit, Bat Mitzvah Comes of Age.
The B-Mitzvah Family Education Program is piloted.
Training clergy and Jewish educators to help 6th and 7th graders and their parents embrace the joys and challenges of becoming a teenager.
Moving Traditions releases a long-term impact study on Rosh Hodesh participants.
The study is authored by Dr. Tobin Belzer and Dr. Pearl Beck and unveils a new strategic plan.
Moving Traditions partners with Keshet.
Holds a convening on Jewish Trans Teen Inclusion that results in new training on gender beyond the binary for all teen group leaders and the piloting of an online national group that eventually becomes Tzelem.
Moving Traditions partners with Foundation for Jewish Camp.
Researching issues of gender, sex, and power at Jewish overnight camps and develop training for camp staff that becomes CultureShift.
A revised Rosh Hodesh Curriculum is piloted and then launched, incorporating new perspectives on feminism and gender.
Hope Suttin becomes the second board chair of Moving Traditions.
Moving Traditions partners with the National Federation of Temple Youth (NFTY).
Expanding Kol Isha, the program that will become the Meyer-Gottesman Kol Koleinu Teen Feminist Fellowship.
The Shevet program is featured on NPR, bringing national attention to Moving Traditions work with boys and sexual consent as the #metoo movement emerges.
Rabbi Darcie Crystal becomes the third board chair of Moving Traditions.
Moving Traditions pilots Kulam (Everyone), a dynamic curriculum for Hebrew High School and other classroom settings.
Moving Traditions program partnerships expand by 50% during the first two years of the Covid-19 pandemic.
Increasing from 114 in 2019-20 to 167 in 2021-22, due to our growing suite of programs with curriculum that can be implemented in person or online.
Moving Traditions receives its first major grant focused on racial justice.
Continues commitment to expanding its programmatic focus to include training teens on anti-racism and antisemitism.
Shuli Karkowsky becomes the second CEO of Moving Traditions, succeeding Deborah Meyer.
Moving Traditions publishes its 2022-2025 strategic plan with ambitious growth goals to amplify 17 years of impact and expertise throughout the fields of Jewish education and teen engagement.
Take Action
Learn more about how you can find a program, bring Moving Traditions programs to your community, or support our work to embolden Jewish teens.