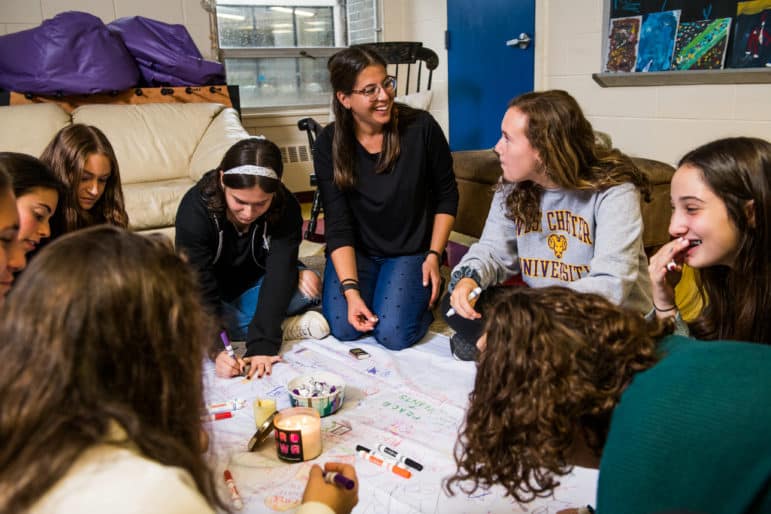 Our Vision
Drawing on the belief that all human beings are created in the Divine image (b'tzelem Elohim), we envision a world where Jews, Judaism, and Jewish community are a force for wellbeing, equity and justice.
Our Mission
Moving Traditions emboldens Jewish youth to thrive through the pursuit of personal wellbeing (shleimut), caring relationships (hesed), and a Jewish and feminist vision of equity and justice (tzedek).
Moving Traditions' Outcomes
Our philosophy for helping Jewish youth thrive rests on three interconnected outcomes, which are also Jewish values. We firmly believe that if you give teens a sense of confidence in exactly who they are (shleimut), if you connect them to other people in healthy and respectful interpersonal relationships (hesed), then you develop kids who thrive – kids who have a sense of purpose and believe they can build toward a better and more equitable world (tzedek).

Wellbeing / Shleimut
When teens embrace their full, multi-layered and authentic selves they thrive. Shleimut means wholeness. It shares a root with the word "shalom," and implies coming to a place of being at peace with one's whole self.
Our programs honor the "whole self" of each preteen and teen, guiding them to navigate through unhealthy social pressures and providing them with Jewish wisdom and practice to foster their spiritual and emotional development. We support identity development, self-awareness, self-acceptance, healthy risk-taking, balance, and resilience.

Justice / Tzedek
As a Jewish organization, our commitment to justice is deeply rooted in our understanding of the order, repeated multiple times in the Torah, to care for the marginalized and oppressed among us. As a feminist organization, we recognize that this responsibility entails working to transform the systems that continue to keep power, knowledge, and access to resources in the hands of the few.
Today's teens know all too well that there are powerful forces that seek to roll back the advances that have been made for women and LGBTQ folks. Those same forces often perpetuate antisemitism and racism, blaming Jews or People of Color for eroding "traditional" family values. Our programs support our teens in pushing back on these forces. As a result, our teens develop a proudly Jewish and feminist vision for justice and begin to explore the roles that they can play in advancing social change.

Caring Connections / Hesed
We know that building healthy relationships and communities is core to a healthy adolescence and to positive life experience. We support Jewish youth in their friendships with peers, familial and intimate relationships, and in their Jewish and secular communities.
Our goal is to give each young person the experience of a being part of a supportive community of Jewish peers, helping them to develop the tools and values they need to build meaningful relationships, set boundaries, and find communities of their choosing.
Our Strategic Plan
Moving Traditions recently released a new strategic plan with an ambitious goal to double our impact on Jewish teens over the next three years – and we are asking you to join us.
Because we have such a strong foundation of programs, staff, and partners, we need only a 25% increase in budget to reach 100% more participants annually by 2025. At Moving Traditions, we believe that when you give teens a sense of confidence in who they are (shleimut) and connect them to a caring community (hesed), you develop youth who thrive – and have a sense of purpose to make the world a better place (tzedek).
Our strategic plan has three goals: (1) to reach more teens; (2) to create an ecosystem of teen support; and (3) secure the resources to make it happen. In order to accomplish our goals and double our impact on Jewish youth, we need your help!
Take Action
Learn more about how you can find a program, bring Moving Traditions programs to your community, or support our work to embolden Jewish teens.