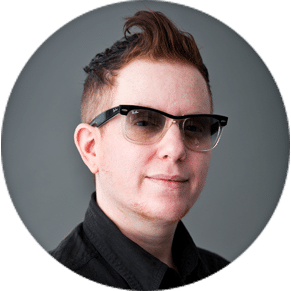 Phoenix Schneider, M.S.W., is trans and Jewish and a lifelong advocate for LGBTQ communities and is consulting with Moving Traditions as the organization researches the needs of Jewish trans, non-binary, and gender nonconforming teens.
Phoenix, who has worked in the nonprofit sector since 2000, specializes in creating local and national programming for LGBTQ youth and trans, non-binary, and gender nonconforming communities. Under Phoenix's leadership as the Director of its LGBTQ Initiative in greater Philadelphia, JFCS was recently awarded the Human Rights Campaign Foundation "Seal of Recognition" for Leadership in Supporting and Serving LGBTQ Youth and Families. Phoenix was also selected to participate in a global think tank of leaders working with Jewish LGBTQ communities and was recognized in the Jerusalem Post's "Who's Who Queer Jew." Previously, at the Trevor Project, Phoenix oversaw a safety net of suicide prevention programming for LGBTQ youth.
We spoke with Phoenix to learn more about : trans, non-binary, and gender nonconforming Jewish youth.
Moving Traditions: What pronouns do you prefer?
Phoenix Schneider: I prefer my name when being referred to.
MT: What do you think are the biggest challenges for Jewish trans, non-binary, and gender nonconforming youth?
PS: A sense of belonging, acceptance and support from community is important to all youth. Trans, non-binary, and gender nonconforming people are a minority and many experience feelings of isolation and a lack of connection to community. The needs of Jewish trans, non-binary, and gender nonconforming youth vary based on multiple factors such as location, available resources, access to trans competent care and trans-inclusive spaces, and support from family, friends, faith-based institutions, and communities at large.
MT: What inspires your work?
PS: I have been on a lifelong journey, personally and professionally, to support LGBTQ individuals and communities. I'm trans and queer and Jewish and I started working with LGBTQ youth over a decade ago. Since then, I've worked in suicide prevention, counseling, and LGBT educational program development. My number-one mission in life is to help improve the quality of life for young people, particularly LGBTQ youth. They should grow up in a world where they can be their authentic selves and validated for who they are. All my work is inspired by their voices, their stories, their journeys, and their need and desire to be their true selves.
MT: Was there a moment when you realized you wanted to spend your professional life working with LGBTQ+ issues?
When I was out of college, I was out as queer and eventually trans. I moved to Washington, D.C. on my own—I didn't know anybody. Once at Dupont Circle I met a group of LGBTQ homeless youth. They had all been kicked out of their homes, and I knew that this was not right. I took them all in to my small studio apartment for the night, and I spent time talking to them, and trying to understand what was going on and how I could support them. But given my situation, I realized I couldn't do that every night. That's when I decided I needed to go back to school for social work—to work with and for LGBTQ communities, getting support and equal rights and advocating for these individuals. This was my passion.
MT: What's the first step in developing new Moving Traditions resources for trans, non-binary, and gender nonconforming teens?
PS: The first and most crucial step is to listen to the voices and experiences of Jewish trans and non-binary teens across the country, which is what I am doing. We must gain an understanding of the diverse current needs of young trans, non-binary, and gender nonconforming people in Jewish spaces before we can begin to address those needs.
MT: How can group leaders be inclusive and make space for trans, non-binary, and gender nonconforming youth in their Moving Traditions Rosh Hodesh and Shevet Achim groups?
PS: There are many ways that group leaders can create and nurture inclusive spaces for trans and non-binary youth in Rosh Hodesh and Shevet Achim. One way is to use non-assumptive language when talking to youth. It's important to not assume any person's gender and can be beneficial to include preferred gender pronouns (PGP) in any group go-around to introduce participants.
MT: The preferred gender pronouns include, "she, her, hers," "He, him, his ," and "them, they, theirs," to name a few. Correct?
PS: Yes, and along the same lines, it's helpful to use non-gender specific or gender-neutral language when speaking to a group, such as saying, "Good morning everyone" rather than "Good morning boys and girls."
MT: What do you think is one of the most inspiring recent Jewish trans, non-binary, and gender nonconforming stories?
PS: One of the most inspiring stories was Jewish transgender teenager Tom Sosnik's coming out at Tehiyah Day School in El Cerrito, CA. It can be challenging to come out as trans at any point in a person's life, and to not know what kind of support, or, sadly, rejection, a person may experience from their family, friends, and community. It's incredibly brave to not only take the step to come out as trans at such a young age, but also to do it in front of your entire community. Tom's community helped him validate his authentic self in a way that will hopefully inspire others, trans and not trans, to see how open and diverse the Jewish community can be. Tom's coming-out story has motivated so many leaders at institutions to take a look at their sustained models and work to improve those models to be inclusive of everybody.
MT: I know you attended Moving Traditions' training conference in Philadelphia a few months ago. What were your impressions?
PS: I was excited to have the opportunity to observe and I was particularly interested in the session on transgender and non-binary identities. The training participants were very engaged and eager to learn more about how to support teens across the spectrum of gender. Moving Traditions' focus on trans, non-binary, and gender nonconforming youth is really tapping into a need in the Jewish community.