Jewish Teens and #metoo
Safety, Respect & Consent
Responding to #metoo and its backlash, Moving Traditions is leading a cultural shift to break patterns and ensure the next generation does not repeat the devas- tating abuses. We're . . .
Talking honestly with teens about sex, intimacy, consent and the Jewish values that can guide healthy decision-making; and
Helping teens resist abusive language and behavior being modeled by adults in every sector of our society, including in Jewish life.
And teens are grateful.

Ground-Breaking Jewish Sexuality Education
Our healthy sexuality curriculum is integrated into Moving Traditions' school-year teen groups, Rosh Hodesh, Shevet, and Tzelem, and is the foundation for our summer camp training.
Moving Traditions offers the only Jewish program helping teen boys examine messages about masculinity and sexuality with a positive frame. Led by Jewish men, Shevet helps teen boys challenge and support other boys.
Through our educational partnerships, Moving Traditions is empowering teens of all genders to:
Unpack gender norms that reinforce unhealthy ideals of masculinity and femininity.
Identify and resist sexualization and objectification.
Experience how Jewish wisdom can help form their values around sexual decision-making.
Act as upstanders, standing up to peers to reduce harassment and assault.
Recognize that sexuality is about intimacy, relationship, and pleasure–not power.
Use Jewish values to work for justice and respect within the Jewish community and the wider world.
Teen Well-being and Jewish Identity
Moving Traditions launched the pathway to teen engagement in 2018-2019. By addressing the joys and challenges of middle and high school in safe Jewish spaces created by Moving Traditions and our partners—more teens are growing up confident, compassionate, and connected to Jewish life.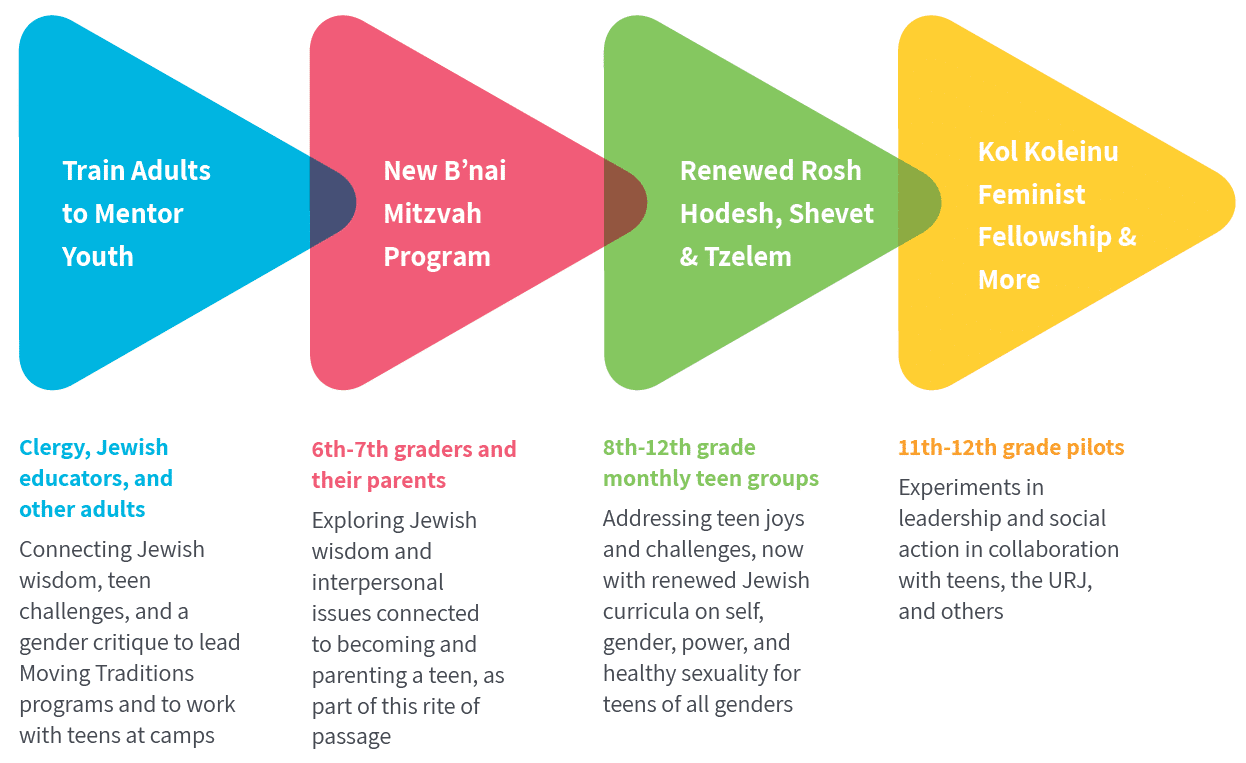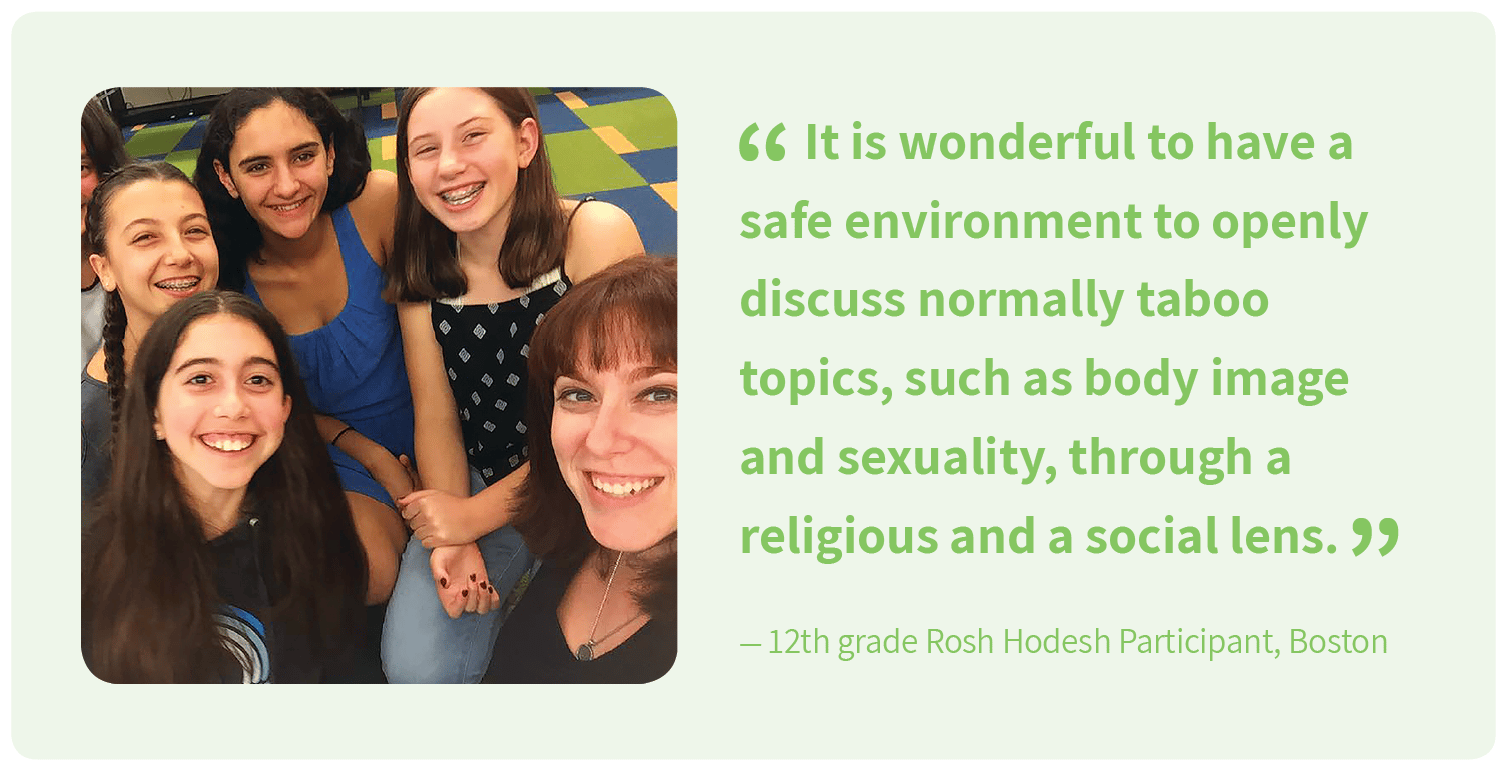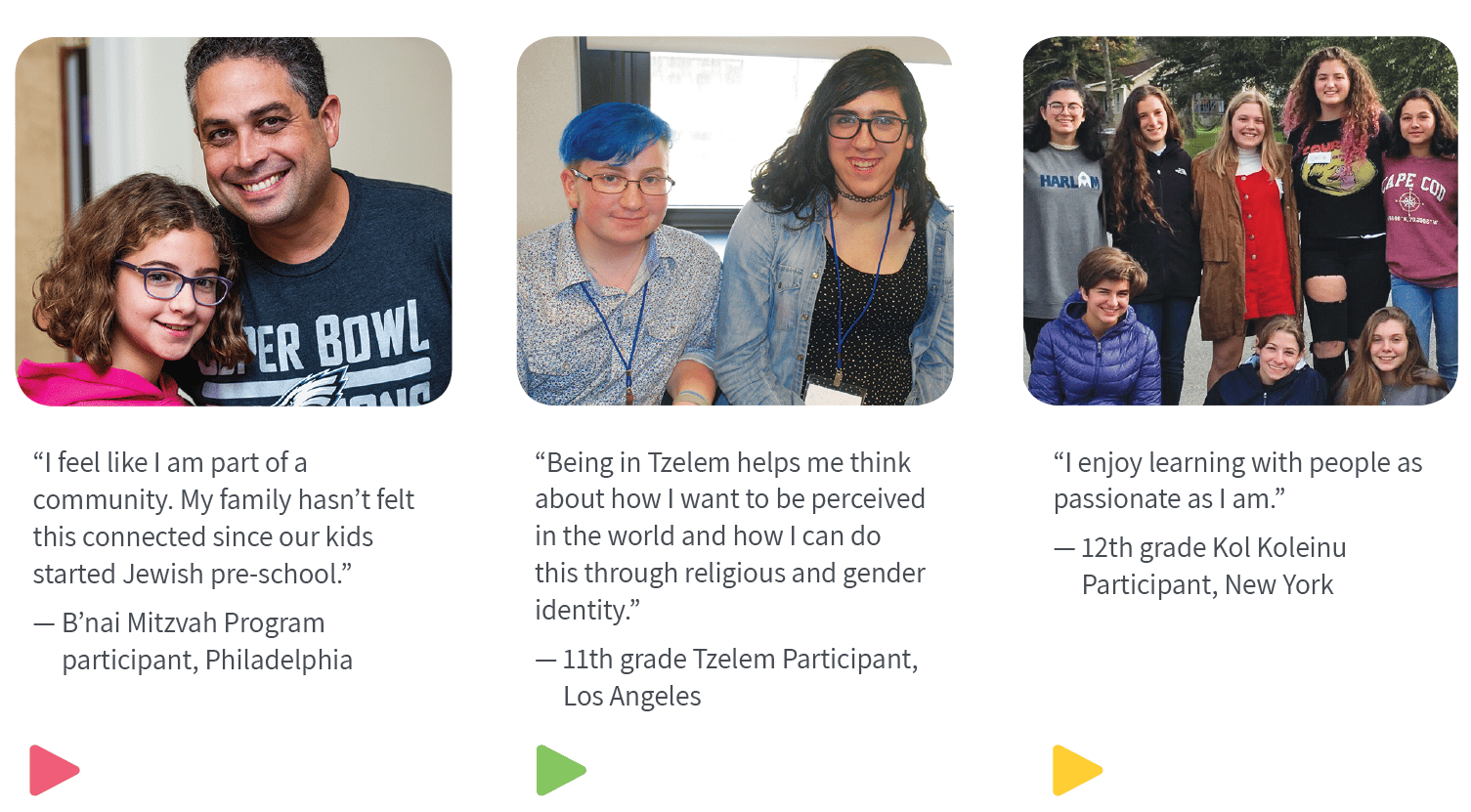 Board of Directors
Hope Suttin, Chair
Jonathan Krasner, Vice Chair
Sheryl Kaye, Secretary
Robert Zuker, Treasurer
Madelyn Bucksbaum Adamson
Rabbi Carole Balin
Rabbi Darcie Crystal
Rabbi Shirley Idelson
Rabbi Dena Klein
Mike Markovits
Lori Perlow Renée Sackey
Deborah Meyer, CEO
Sally Gottesman, Co-Founder and First Board Chair
Contributors
We deeply appreciate the generous support from the many individual contributors to Moving Traditions and from the following institutions:
Alan B. Slifka Foundation
Anonymous Anonymous
Combined Jewish Philanthropies
Crown Family Philanthropies
Dobkin Family Foundation
Dorot Foundation
Horace W. Goldsmith Foundation
Jack and Goldie Wolfe Miller Fund
Jewish Community Foundation of Los Angeles
Jewish Federation of Greater Los Angeles
Jewish Federation of Greater Philadelphia
Jewish Federation's Women of Vision Foundation of Greater Philadelphia
Jewish United Fund/Jewish Federation of Metropolitan Chicago
Jewish Women's Foundation of Greater Palm Beaches
Jim Joseph Foundation
Lasko Family Foundation
Leifer Family Fund
Lucius N. Littauer Foundation
Nedivot
Neshamot
Paula and Jerry Gottesman Family Supporting Foundation
Project Accelerate
Rose Community Foundation Star Family Foundation
The Michael and Carol Lowenstein Foundation
The Philip and Muriel Berman Foundation
UJA-Federation of New York
Westchester Program Services Cabinet
Staff
Deborah Meyer Co-Founder & Chief Executive Officer
Jennifer Anolik Curriculum Manager
Pamela Barkley Director of Educational Training
Rabbi Daniel Brenner Chief of Education and Program
Robin Cohen Chief of Finance and Operations
Rabbi Tamara Cohen Chief of Innovation
Jillian Finkelstein Communications Specialist
Stephanie Freedman Education Program Manager
Sarah Fox National Program Manager
Lisa Gersten Chief of External Relations
Jessica Glassman Assistant to the CEO
Liz Kaufman-Taylor Database Administrator
Robyn Kotzker Director of Planning and Operations & National Counsel
Lyn Manus Finance Specialist & Office Manager
Adam Oded Development & Communications Manager
Ben Schindler Chief of Field Operations
Regional Staff
Boston Director Laura Hyman
California Director Alisha Pedowitz
California Program Manager Julia Papiyan
Chicago Director Lisa Alter Krule
Colorado Director Jennifer Kraft
New York Director Nicole Nevarez
Philadelphia Director Eve Berger