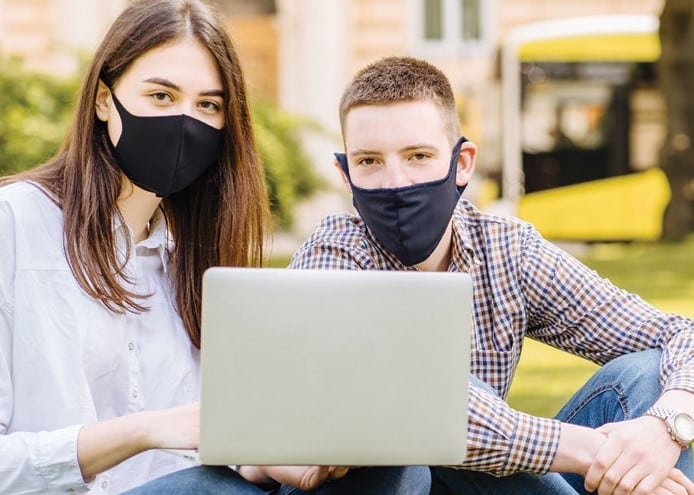 Thank you for making it possible for Moving Traditions to innovate and to meet the needs of Jewish youth in the face of the pandemic.
Building mental health, resilience, and wellbeing
Creating safe spaces and engaging experiences—in person and online
Exploring Jewish values, social-emotional learning, and society through a gender lens
Advancing teen social justice activism
Providing plug and play programs to more partners and collaborators
We help Jewish teens flourish through our suite of programs.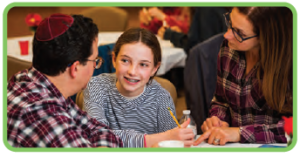 Temple Sinai family in suburban Philadelphia explores the impact of turning 13.
B'nai Mitzvah Family Education
Exploring with 2000+ 6th and 7th graders and their parents at 75+ institutions the issues that arise as children enter the teen years, reimagining the celebration during the pandemic.
85% of parents reported that:
"Today's session helped me feel like I am a part of a Jewish community that supports me as a parent."
Teen Groups
Emboldening 2000+ 8th–12th grade teens in 210+ transformative Jewish peer communities: Rosh Hodesh for teen girls; Shevet for teen boys; and Tzelem for LGBTQ+ teens.
86% of teens reported that:
"I learned skills to help me tackle challenges or problems when things get hard or stressful."
80% of all teens reported that:
"I developed a stronger connection to my Jewish identity."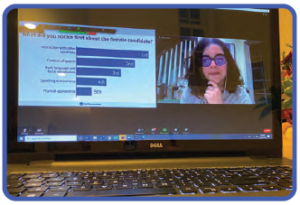 Kol Koleinu
Advancing social justice with 50 national feminist fellows in 10th–12th grade—offered in collaboration with URJ and USY—who deepen their knowledge, amplify their voices, exert leadership, and together with adult mentors develop projects to create tangible change.
Moving Online
Creating responsive curricula on the emerging issues that matter most to Jewish youth and their families, such as:
Reflection 2020: An Election Toolkit for Teens
May Her Memory Be a Revolution: Grieving for RBG
Racial Justice: Rage, Riots and Righteousness
How to Connect When You Are Never Apart?
Supporting 1,000+ Jewish parents and educators on teen sexuality, health and wellbeing, and other issues, in webinars with national experts such as Peggy Orenstein, author of Boys & Sex, and Jennifer S. Hirsch and Shamus Kahn, co-authors of Sexual Citizen: A Landmark Study of Sex, Power and Assault on Campus.
Training clergy and Jewish educators in interactive zoom webinars to make meaning and connection–online or in person, depending on the pandemic. In summer and fall 2020, through:
8 Carol Lowenstein Moving Traditions B'nai Mitzvah Training Institutes
2 National Training Conferences for Teen Group Leaders
268 clergy, educators and adult mentors prepared for 2020–21 program year
"Webifying" hundreds of pages of curricula—B'nai Mitzvah Family Education sessions and preteen classes, and Teen Group sessions, creating meaningful and vibrant online experiences.
Launching Heart to Heart, a five-session sampler of intimate conversations to help
Jewish organizations—synagogues, JCCs, camps, day schools, and others—build health, wellbeing, social justice activism, and positive Jewish connection for socially isolated Jewish youth.
CultureShift
Preparing Jewish camps to prevent sexual harassment and assault, and promote safety, respect and equity.
Moving Traditions trained 28 senior camp leaders from 19 camps at 2 train-the-trainer institutes. We created 12 video clips and a user guide to explore work-place harassment in informal education settings.
National Impact
Together with our partners across North America, Moving Traditions is helping more Jewish preteens and teens thrive with confidence, compassion, and a lifelong commitment to Jewish community.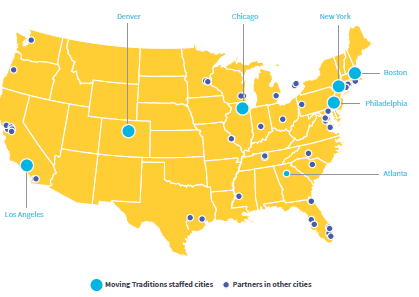 2019 Audited Financials