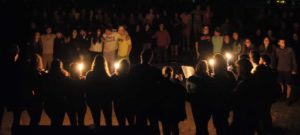 Can We Hug Now? Re-socialization and Re-connection in Summer Camp 2021
Moving Traditions held an online train-the-trainer institute on May 20, 2021 from 2:00 to 4:00 p.m. ET / 1:00 to 3:00 p.m. PT for senior camp professionals and their supervisory team. We explored how to support staff and campers/program participants in the unique challenges of summer 2021. We paid particular attention to the social and emotional issues that the entire camp community would likely be experiencing this summer around touch, resocialization and reconnection, while promoting shared values and enhancing the camp community.
Participants will:
Explore ideas about how to create social connections at camp when physical touch is not allowed.
Identify the variety of possible responses of youth to the pandemic – and to the potential lifting of some pandemic restrictions at camp, in order to create a camp environment that respects those differences.
Expand their toolkit of activities for supporting campers and staff as they re-socialize.
Explore ways to best articulate their expectations regarding consent, physical boundaries, and romantic relationships that reflect their camp's values as a framework.
Feel empowered to train staff and guide campers about re-socialization and re-connection during the summer of 2021.
To learn more, contact Eve Berger at eberger@movingtraditions.org.
Click here to read "Can We Hug Now? Returning to Touch in Jewish Spaces" by Rabbi Daniel Brenner.
Reflections from the Camp Director Conversation (April 6, 2021)
The excitement around the opening of camp is in the air! After a hiatus from their "home away from home" directors, staff and camp families are all anxious to get back. Yet, there are still so many questions that remain unanswered about how we manage safety, fun, and re-socialization all while trying to have "normal" camp activities.
As in past years, Moving Traditions has conducted "Cultureshift" camp training focusing on helping camps create healthier environments around issues connected to gender, sexism and the toxic hookup culture that exists in many camps. This summer – life looks different, and we wanted to see how we could help camps talk to staff and campers around what camp will look like, feel like, and to bring everyone together in a safe and healthy way. We convened a conversation on April 6 with 23 camp professionals from camps we have worked with over the past few years. What we learned was they have many more questions than answers! We focused our conversation on the idea that campers and staff have been socially and physically isolated for over a year and what is going through their minds as they arrive at camp. The range of emotions can and will vary from being terrified to be around too many people, to feeling anxious to jump right back into hanging out with friends. This wide range of possibilities is something camps must contend with as they structure new guidelines and help campers adjust.
Many camp directors want to define the WHY behind the new guidelines their camp will follow in terms of testing, pods, social distancing, and mask wearing. One concern is that their camp families and staff are coming to camp with different values around COVID protocols. Camps need to define protocols in simple and easy to understand ways – many want to add Jewish based values their community to help make them easier to follow and part of their core culture. Camp Directors have a difficult job just focusing on the logistics of opening camps safely this summer, yet there is a huge concern is around supporting the mental health and well being of their community as their staff and campers reconnect with their peers and friends.