Light the Way: Parenting for Wellbeing
December 14, 2022
@
8:00 pm
–
9:15 pm
EST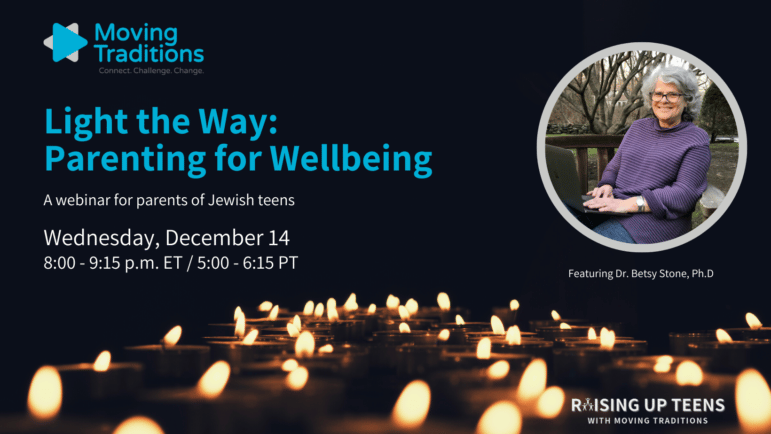 As we approach Hanukkah, a time of light, too many of our teens are struggling to maintain their mental wellness in the face of renewed academic and social pressures as the pandemic recedes. Some are finding a way to channel their concerns into positive change for themselves and their communities.
Join Moving Traditions and Dr. Betsy Stone as we examine ways we can support the teens in our lives, shine a light on these pervasive issues, and help our youth find their way.
Moderated by Moving Traditions' own Rabbi Tamara Cohen, we will give parents actionable tips and ideas—rooted in wellbeing, caring connections, and pursuit of justice—to support your teens and embolden them to thrive.
We will be joined by a panel of teens, who will share from their perspective how we as adults can better support their personal wholeness, their relationships with peers, and their efforts to address the societal issues they feel impacted by today.
---
About Our Featured Speaker
Betsy Stone, Ph.D. (she/her), a Yale-educated Psychologist, is an engaging speaker whose topics of interest include Teens and their Brains; Gen-Xers as Parents; Trauma in Your Body and Your Brain; Post-Traumatic Growth; Psychological Adaptation to Retirement; Spirituality and many others. Dr. Stone is a retired Clinical Psychologist, with experience teaching in synagogue schools, at Hebrew Union College since 2002, and to groups of educators, Rabbis and parents. She delivers interactive seminars, webinars and talks, with an emphasis on relatable and usable information. Dr. Stone leads discussions and talks that are tailored to her audience, and makes meaningful connections with listeners.
Her 2022 book of essays, Refuah Shlema, is available on Amazon.
We will be giving away five free books as a part of this event — register now!
About Our Moderator
Rabbi Tamara Cohen (she her), Chief Program Officer for Moving Traditions, guides Moving Traditions' educational design and builds strategic partnerships for reach and impact. Tamara is the mother of two boys, one in the throes of adolescence. Tamara was recently published in Kveller, with her thought piece, I Don't Want My Jewish Son to Listen to Kanye — But I Want Him to Decide That Himself.
We will also be featuring a panel of teens speakers (TBA).
---

Raising Up Jewish Teens with Moving Traditions is a series of free webinars geared toward parents, educators, and all those who guide Jewish preteens and teens. All are welcome.