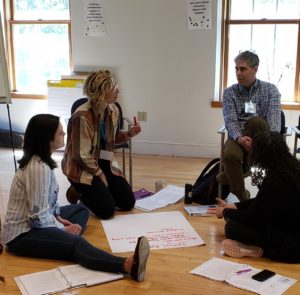 What Does it Mean to Be a Gender Inclusive Camp in Summer 2022?
A Webinar for Senior Camp Professionals
Wednesday, April 13, 2022
2:00 – 3:15 p.m. EST/11:00 a.m. – 12:15 p.m. PST/
Join Moving Traditions for a strategic conversation for Jewish camp professionals about gender and gender expansiveness as it relates to staff, campers, and camp culture.
In the last five years, many Jewish camps have welcomed both their first staff members and first campers who identify beyond the traditional gender binary. In Summer 2021, with camps resuming from Covid, these realities were heightened and raised new questions about the nature of gender at camp. Addressing those questions at the individual camper level, the staff level, the camp policy and culture level, and, at the communication level to parents and stakeholders is an area of emerging expertise for many camps.
Join us for a conversation with fellow camp professionals who will share their emerging expertise and experiences with addressing these questions, and with representatives of Moving Traditions and some of our partner organizations with expertise in working with and supporting gender diverse youth from a variety of perspectives. We will create a space for camp professionals to speak with one another about their experiences and the challenges that they face regarding inclusion.
Registration is now closed.
Moving Traditions greatly appreciates the following Foundations who are among the supporters of the important work of CultureShift


The Lasko Family Foundation