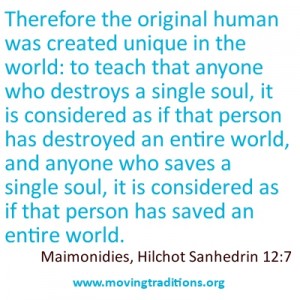 There are many Jewish sources that provide a sense of healing and peace.
Yet, after a violent act by a human being that erases the life of another human being, it is our ethical literature that clarifies our thinking and reminds us of our responsibilities toward one another.
The following text, an insight from Maimonides based on his reading of the Jerusalem Talmud, is one such source.
If you are a parent of a teen, or leading teens in a Rosh Hodesh: It's a Girl Thing! or Shevet Achim: The Brotherhood group, we suggest that you reflect with teens on this teaching  and what it says both about those who commit acts of murder and about those who risk their lives to save others.
Therefore the original human was created unique in the world: to teach that anyone who destroys a single soul, it is considered as if that person has destroyed an entire world, and anyone who saves a single soul, it is considered as if that person has saved an entire world.

Maimonidies, Hilchot Sanhedrin 12:7