We help teens grow into confident, happy, and successful young adults!
Discover Moving Traditions' groups for teens!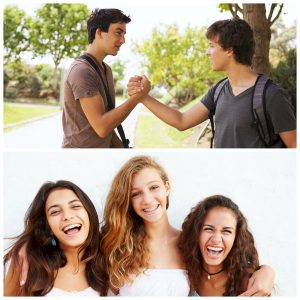 Looking for a way for your teen to…
Connect with other Jewish teens AND experience Judaism as relevant to their life?
Have a safe and sacred space to explore fundamental questions of identity and society and to challenge traditional gender codes and expectations?
Move through their adolescence feeling empowered, growing into happy, healthy adults?
In Moving Traditions Community Groups, participants experience our signature programs, Rosh Hodesh for girls and Shevet for guys, in single-gender, single-grade gatherings made up of 8–12 teens in 8th grade or higher. The groups meet for two hours each month during the academic year in safe, fun, and supportive spaces to engage in meaningful conversations—where a trained adult mentor helps teens consider Jewish values as they explore the issues they care about most, such as relationships, social pressures, and stress.
Registration is now closed.
To learn how you can get your teen involved in a Moving Traditions group, contact Julia Papiyan, Manager of California Programs, at jpapiyan@movingtraditions.org.