Exploring Identity, Building Community
At Moving Traditions, we believe that in order to have a healthy Jewish future, we must invest in teens' health and well-being.
Most teens drop out of Jewish life right after their bar or bat mitzvah. This is a problem for the Jewish community.
It is also a problem for teens who, research shows, benefit from being connected to a larger, values-based community.
The solution, however, is not to focus on making teens more Jewish.
The Whole Teen
Instead, we need to meet teens where they are, connecting Jewish wisdom to the challenges and joys of their daily lives, such as self-esteem, body image, friendship, romance, and academic stress, while encouraging teens to question fundamental ideas of identity and society.
This is what teens find so meaningful in Moving Traditions' experiential signature programs, Rosh Hodesh and Shevet. Teens meet monthly in groups of 10 peers, guided by a trained adult mentor, using games, art, creative ritual, drama, debate, and discussion.
The Jewish Future
As a result of this approach, research shows, Jewish teens feel an increased sense of connection to themselves, to their Jewish peers, and to the Jewish community.
Moving Traditions has found—in an independent evaluation—that when we promote self discovery, challenge traditional gender roles, and celebrate a diversity of voices, teens grow into adulthood with confidence, compassion, and a lifelong connection to Jewish community.
Here's how we do it.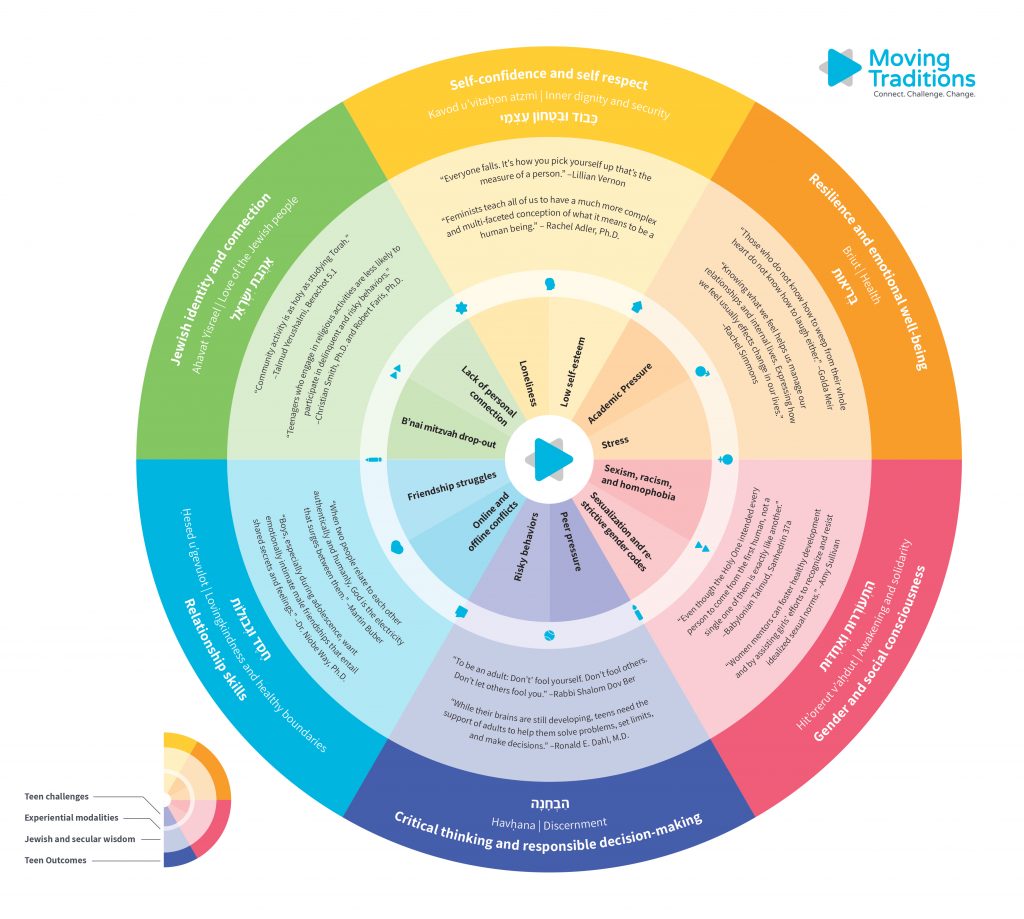 Download this as an 8-1/2 X 11 PDF
Download this as an 11 X 17 PDF