Kumi: An Anti-Oppression Teen Leadership Experience is a unique opportunity for Jewish teens (10th-12th graders) to help prepare them for bold leadership and activism on college campuses, in social justice spaces, and wherever else their passions take them. Participants of the program will be equipped to interrupt racism, antisemitism, and other manifestations of oppression. Together, they will contribute to the building of more inclusive communities and movements for justice as Jews.
Through their experience in Kumi, participants will be challenged to explore their connection to their own Jewish identity and build the skills to turn their values into action. Among the key issues discussed, teens will be given support to explore how they can talk and think about Israel, when so much of the current discourse is polarized and creates simplified binaries.
Kumi participants will engage in a two-part experience: a four-day, in-person learning-intensive retreat and a monthly virtual community of practice.
Kumi's in-person retreat will focus on community-building through two tracks: Jews of Color Empowerment and Anti-Racist Allies. In keeping with racial justice best-practices, these two tracks will be learning together and separately over the course of the experience to provide intentional and targeted support of their learning.
Jews of Color is an imperfect umbrella term that refers to Jewish people who also identify as people of color in an American race context, and we ask that only teens who identify as Jews of Color apply for this track.
Now Accepting Applications
Learn more about the program details and eligibility:
Kumi has a very limited number of spots available in the current cohort.
Applications are being accepted on a rolling basis, and applicants will receive communication about their application status within two weeks of applying.
Moving Traditions cares about teen wellbeing and recognizes that you may have competing priorities. If you need additional time to submit your Kumi application, please request an extension.
Program Details
Kumi is a hybrid experience with two core components: an intensive in-person four-day retreat and monthly online meetings called a community of practice. This structure will help Kumi participants get a strong shared foundation of anti-oppression theory and practice and also have an opportunity to regularly reconnect to deepen their learning with their cohort.
Four-Day, In-Person Retreat
November 10-13, 2023, in Chicago, IL
This in-person seminar will have two tracks: a JOC empowerment track and an anti-racist allies track. These two tracks will both be at retreat at the same time but, in keeping with best practices around racial justice work, will spend some of their time in separate spaces and some of their time all together as one cohort. Each cohort will be led by trained and experienced adults, at least half of whom will be Jews of Color. We believe that this format will serve the needs of teens for intentional and targeted support for their learning, personal growth and forming of caring connections with peers and mentors.
Learning will include setting foundational language for talking about identity and oppression, exploration of various intersectional feminist concepts related to race, gender, religion, and oppression through a lens of Jewish identity exploration. Participants will be challenged to explore how these concepts show up in their lives and communities. Modalities will include Jewish and non-Jewish text explored in hevruta pairs, journaling, art creation, small and large group discussion, and skill-building modules.
At the retreat, all meals are kosher and we strive to accommodate all dietary needs. We will be creating an atmosphere that will be conducive to various levels of Shabbat observance.
Virtual Community of Practice
Virtual sessions from August to May
In addition to the in-person retreat in November, Kumi participants will meet monthly for 90-120 minutes. Through introspective conversations and activities, in tracks or large groups, teens will dig deeper into topics related to their identities and experiences. External speakers and trainings will deepen teens' connection to the community, skills, and application of concepts.
These sessions will be scheduled to best accommodate participating teens' busy schedules, as identified through the application process.
---
Background
Kumi (pronounced koo-mee) means "Wake Up!" or "Stand Up!" in Hebrew. This name was chosen to represent the intertwined importance of learning deeply about ourselves and the world around us ("Wake up!"), and the need to use that knowledge to support justice in our community ("Stand up!"). The word Kumi is used to urge the Jewish people to wake up and stand up in the Lecha Dodi, a 16th century poem still sung on Friday nights around the world to hundreds of different melodies. Kumi participants will join a Jewish community dedicated to meaningful exploration of pressing social justice issues and building skills to become well-informed Jews who take justice seriously.
Staff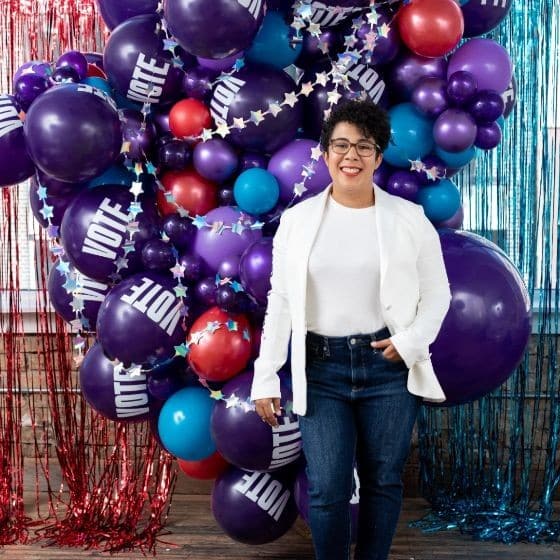 Beckee Birger is the Fellowship Director (she/her/hers) for Kumi. Beckee's passion for social justice has led her through a variety of jobs, such as special education attorney, AmeriCorp program manager, and career advisor at an education non-profit. She believes engaging people of all ages, but especially youth, in political education and community organizing is critical to our future, and she's proud to celebrate her Judaism through a deep commitment to social change. In her free time, she's a co-founder of JCUA's Kol Or Jews of Color Caucus, a co-facilitator of Tzedek Lab's Political Educators kabal, and she's an avid board game player.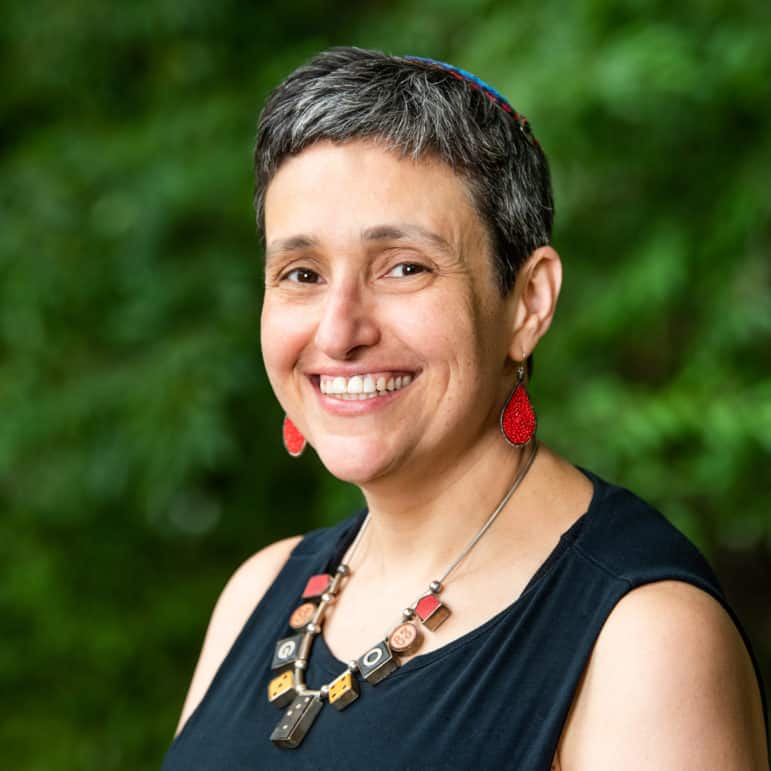 Rabbi Tamara Cohen, Chief Program Officer (she, her, hers), guides and supports Moving Traditions' strategy, program development and partnership work in collaboration with her fabulous colleagues. Tamara knows that Jewishly-engaged, intersectional feminists of all genders can and will change the world. She is proud to have initiated Tzelem and Kol Koleinu and to be working on a new project for older teens to navigate issues of race, gender, sex, antisemitism, and Jewish identity today. Tamara is a board member of Women's March, on her synagogue's anti-racism task force and a member of the Bnot Esh Jewish feminist spirituality collective. When Tamara isn't moving traditions and the Jewish community, she can be found reading and writing poetry, organizing community ritual, walking in Carpenter's Woods, or having fun with her partner, Dr. Gwynn Kessler and their two children (preferably off screen but also, often, on).
---
Funding Partners
Kumi is made possible by support from the Shards of Light Foundation and the Isabel P. Dunst Philanthropic Fund, a donor-advised fund of the Jewish Community Foundation of the Jewish Federation of Greater Washington.