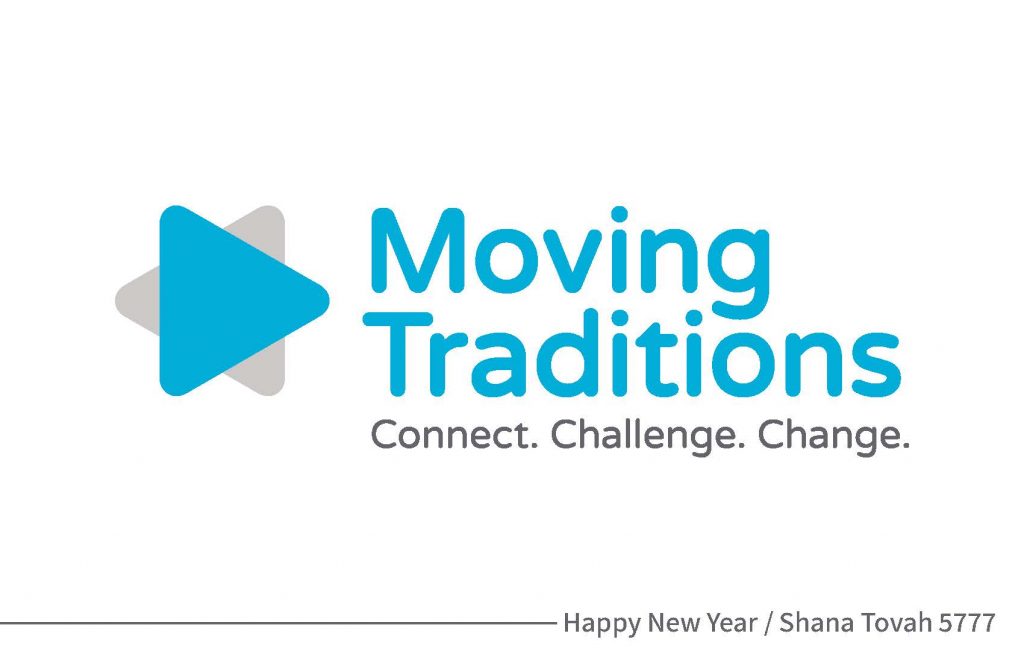 Rosh Hashanah is a time of transformation and new beginnings, which makes it the perfect time for Moving Traditions to introduce our brand-new identity.
While our look may be different, Moving Traditions remains committed to guiding Jewish teens on their path to becoming thriving adults. This New Year, we invite you to join us and:
Connect with yourself, with your loved ones, and with your community.
Challenge yourself and others to celebrate diversity, despite society's stereotypes.
Change the world around you, using Judaism as a force for good.
The holidays provide an opportunity to contemplate how we are doing, as individuals and as a community. When we transform together, we have the power to move our teens, our communities, and Judaism forward.
---
A Brand-New Look for a New Year
To match our bold vision for the future, Moving Traditions teamed up with the Additive Agency to create an equally bold and dynamic identity, led by our new logo. With our name as inspiration, the logo activates the Star of David. The top triangle of becomes a forward arrow, inviting people to move themselves, their communities and Judaism forward. The cyan color represents an evolution of the prior Moving Traditions logo, while adding a freshness to the blue traditionally associated with Jewish organizations.
Our new tagline is: "Connect. Challenge. Change." It emphasizes our commitment to guiding teens along a path toward becoming thriving adults. It also reflects the experiences teens have as they progress through our signature programs, Rosh Hodesh and Shevet Achim, where teens connect with themselves, one another, and with Judaism. They challenge traditional gender roles and ask questions about identity and society. Together, they change, evolve, and grow as healthy teens, with the support of the Jewish community and with the intelligence and confidence to strive for a better world.
Moving Traditions consulted with teens about how to evolve our visual identity to match their experience with us. We heard firsthand how excited teens are about the idea of challenging traditional gender roles and thinking critically about what it means to be a human being and a Jew. Launching our new logo and tagline during Rosh Hashanah, the Jewish New Year, is a logical next step.
Shana tovah/Happy New Year!