Moving Traditions has been selected for the first-ever Slingshot Los Angeles Guide to Jewish Innovation
Here's what the Slingshot Guide says about Moving Traditions:
Moving Traditions understands that gender is a central focus of adolescence, with the pressure to conform to expectations during these coming-of-age years present in nearly every aspect of teen life. Adolescents navigate what it means to be identified as a "Jewish girl," "Jewish boy," or "Jewish trans youth" in a multicultural, multifaith, and highly secular world. This confluence of forces combined with the fact that teens are very likely to drop out of Jewish life provides Moving Traditions and the Jewish community with the opportunity to help teens reach their full potential by connecting relevant content with enduring Jewish values and by fostering positive peer-to-peer relationships through trained adult mentors.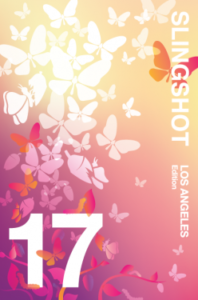 Slingshot Los Angeles Guide
Click here to see our page in the guide.
About the Slingshot Guide
The Slingshot Guide, now in its twelfth year, was created by a team of young funders as a guidebook to help funders of all ages diversify their giving portfolios to include the most innovative and effective organizations, programs and projects in North America. The Guide contains information about each organization's origin, mission, strategy, impact and budget, as well as details about its unique character. The Slingshot Guide has proven to be a catalyst for next generation funding and offers a telling snapshot of shifting trends in North America's Jewish community – and how nonprofits are meeting new needs and reaching new audiences. The book, published annually, is available in hard copy and as a free download at www.slingshotfund.org.