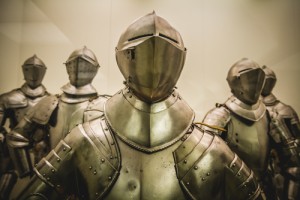 Rabbi Ben Zeidman, at Manhattan's Temple Emanu-El, has been pioneering a unique approach to Shevet that takes advantage of New York City's cultural offerings to help the teens in his group think more about manliness, money, and Jewish values. Ben wanted to give these 8th graders immersive, hands-on experiences outside the Temple walls so he took them to The Metropolitan Museum of Art, The Museum of Biblical Art, and Bloomingdale's.
Here's what Ben wrote about their experiences — which we hope will add to your toolkit, whether as an educator or parent:
For our first outing we went to the Metropolitan Museum of Art to look at a couple of different artistic expressions of manliness. I used some of the activities from the 'manhood' section of the Shevet curriculum to open up the year. Then we looked at Greco-Roman art, the Pre-Raphaelite Legacy exhibit, and also of course at the Arms and armor room. We noted where men took on similar characteristics to today's stereotypes, and where they differed. We wandered a bit and saw how Pacific Islanders' depictions of men differed greatly from Greco-Roman which differed greatly from Western European. From facial hair, to use of make-up, to weight and height, to piercings and tattoos. The guys were excited and impressed to see that the idea of "manliness" and what it means to "look like a man" is cultural and changes with time and place.
Our second meeting was centered around a visit to the Museum of Biblical Art. We looked at depictions of biblical men and at how depictions of 'holy men' like Jesus in Christian art differs greatly from what we saw at the Met. We had a long conversation with text study about the differences in who we as Jews look to as ideal men (Moses) vs. the notion of Jesus. Why we look up to the flawed character rather than the 'perfect'… and how that gives us strength and confidence as Jewish men. We also talked a bit about the notion of original sin and how that affects the stereotypes of men in Western civilization…and why we don't believe in original sin.
Our third visit was to Bloomingdale's. We built on previous trips by talking a little bit about the stereotypes they'd seen and discussed. Then I sent the guys on a scavenger hunt. We utilized pieces from the Shevet curriculum on money and wealth. We gawked at $7000 men's coats, and made a point of walking through the underwear section to get a sense of the sexuality being thrown at us there. The guys were also very interested in the depictions of men on the billboards and advertisements in the store which were more reminiscent of Greco-Roman art that they saw at the Met, and less representative of real men.
Even when we are just walking around in New York, I talk with my group about observing the men around us. The guys find that interesting. We can talk about the men who are wearing something the guys would never consider wearing, or the men who are pushing strollers and walking with their families (men doing things that "the messaging" would tell us "men don't do").