By Deborah Meyer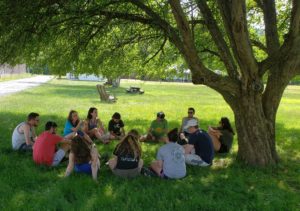 For generations of Jewish teens — perhaps including you and your children — summer camp has been a magical place where life-long friendships have been made, and attraction and romance have often been first explored.
However, in the wake of the #MeToo movement — and revelations of incidents of harassment and abuse at Jewish summer camps — there is a heightened concern about romantic relationships and interpersonal interactions at camp.
What will your teen experience? What touch will be permitted and forbidden? And what will inform the decisions that your teen makes? See below for suggestions on what to discuss with teens in your life.
Some camps are banning frontal hugs in favor of "side hugs" while others are teaching about consent in romantic encounters. Many camp leaders are seeking help training their counselors —  who often are in their late teens and early twenties, in their first job, and are themselves learning about what is appropriate behavior for their peers and campers.
Moving Traditions is helping challenge sexism and prevent sexual harassment and assault at camp through our latest initiative, CultureShift. We are drawing on our comprehensive, Jewish sexuality curriculum to prepare camp leaders to train their counselors and staff to promote healthy relationships at camp rooted in safety, respect and equity.
On April 29 & 30 of this year, senior staff from 10 leading Jewish overnight camps attended Moving Traditions' "train-the-trainer" institute to help refine and implement a new set of educational tools, training processes, and guidelines for staff and campers.
Before the teen in your life packs their trunk, you may want to have a conversation about romance at summer camp. Here are three suggestions:
Crushes. Tell your teen it is okay to resist pressure to reveal their crushes to their bunkmates. No one should be coerced to say who they are attracted to or why — and not everyone develops a crush every summer. If your teen does have a crush on someone, remind them that everyone goes at their own pace. They might want to flirt with someone, but that person may not want to flirt with them.
First Kisses. Assure your teen that not every first kiss is perfect. Many times these experiences are awkward or a little uncomfortable. Tell your teen to look for "compatibility" — someone who they feel comfortable being around, who allows them to be themselves, and who they can trust. Teach your children from the start to first ask for consent.
Beyond Kissing. Remind your teen that rules prohibiting sex and sexual encounters at camp are there to protect everyone. Let them know that if they are being pressured or coerced into anything sexual — or they know of someone else who is being pressured — they should speak with an adult, such as the camp director, social worker, or a counselor.
To go a little deeper, check out this handout Moving Traditions developed, Healthy Relationships: 9 Key Ideas for Teen Reflection. This tool helps our Rosh Hodesh, Shevet and Tzelem teen group participants and overnight campers to make healthy, values-based decisions in relationships, and eventually in romantic and sexual activity.