Moving Traditions and Keshet are excited to partner and bring you Tzelem, a monthly group for Trans, Nonbinary, Gender Expansive, and LGBTQ+ Jewish teens, in Chicagoland.
Tzelem offers a safe, supportive space to make new friends and explore issues like:
Life transitions
Healthy Relationships
Body Positivity
Self-Compassion
Mental Health
Jewish Identity
And much more!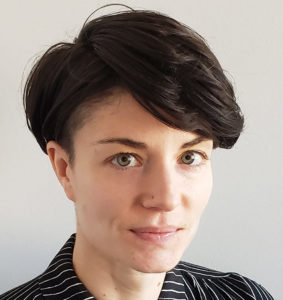 Returning Group Leaders: Scout Bratt & Rivka Yeker
Scout Bratt (They/Them) is a facilitator and education based in the Andersonville neighborhood of Chicago. They teach comprehensive sexuality education with 4th-12th Graders and adult allies, in addition to co-facilitating University of Illinois at Chicago first-year dialogue courses. They are originally from Kansas City and hold a Masters in Youth Development for University of Illinois at Chicago.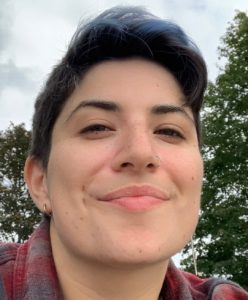 Rivka Yeker (They/Them) is a writer, cultural organizer and creative consultant in Chicago. They are the founder of Hooligan Creatives and Hooligan Mag, a passionate community-builder and a lover of somatic healing. They are very excited to be a Tzelem group leader this year!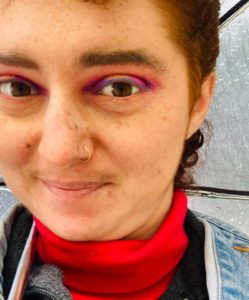 New Group Leader: Cohen Kraus
Cohen Kraus (He/They), served as the Jewish Equity Diversity and Inclusion (JEDI) Community Fellow for the last two years working to develop, shape and produce Chodeshim to support JEDI's work around LGBTQ education, engagement, and empowerment. Cohen is a a non-binary transmasculine, Jewish educator who is passionate, curious and dedicated to restorative justice and institutional change. For the past seven years Cohen has committed his professional and personal life to working with Jewish youth and families in synagogues and nationally, increasing LGBTQIA affirmation in the community, sharing his passion for Jewish education and nonprofit leadership. In his freetime Cohen enjoys ice cream, the beach, and watching good shows.
For more information, please email Andi Kaufman: akaufman@movingtraditions.org.
This program is a collaboration between Moving Traditions and Keshet with the support of the Jewish Federation of Metropolitan Chicago – Fund for the Future and Springboard—a project created with the support JUF/Jewish Federation of Metropolitan Chicago and the Jim Joseph Foundation. This year, we are excited to be hosted by and collaborating with Response for Teens, a JCFS Chicago program.