Moving Traditions and Keshet are excited to partner and bring you Tzelem for Trans, Nonbinary, Gender Expansive, and LGBTQ+ teens, in Chicagoland.
Moving Traditions is a national organization that emboldens teens to flourish by fostering self-discovery, challenging sexism, and inspiring a commitment to Jewish life and learning. Tzelem is for lesbian, gay, bisexual, trans, nonbinary, queer and questioning teens in grade 7-12. Tzelem is open to teens of all genders.
Each month the group talk about key issues like life transitions, healthy relationships, body positivity, self-compassion, mental health, intimacy and Jewish identity. The group will meet in-person once a month as health safety permits and will meet online if necessary.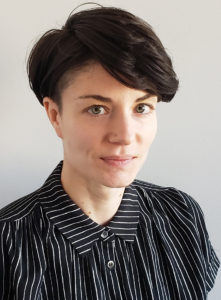 LGBTQ+ and Gender Expansive Group Leader: Scout Bratt
Scout Bratt is a facilitator and education based in the Andersonville neighborhood of Chicago. They teach comprehensive sexuality education with 4th-12th Graders and adult allies, in addition to co-facilitating University of Illinois at Chicago first-year dialogue courses. They are originally from Kansas City and hold a Masters in Youth Development for University of Illinois at Chicago.
Transgender and Nonbinary Group Leader: Rivka Yeker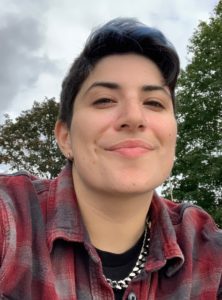 Rivka Yeker is a writer, cultural organizer and creative consultant in Chicago. They are the founder of Hooligan Creatives and Hooligan Mag, a passionate community-builder and a lover of somatic healing. They are very excited to be a Tzelem group leader this year!
For more information, please email Paige GoldMarche: pgoldmarche@movingtraditions.org.
This program is a collaboration between Moving Traditions and Keshet with the support of the Jewish Federation of Metropolitan Chicago – Fund for the Future and Springboard—a project created with the support JUF/Jewish Federation of Metropolitan Chicago and the Jim Joseph Foundation. This year, we are excited to be hosted by and collaborating with Response for Teens, a JCFS Chicago program.