Advancing Menstrual Justice with Anita Diamant & Teen Feminist Fellows
On Sunday, October 10, 2021, Moving Traditions hosted a conversation with Anita Diamant, author of Period. End of Sentence., featuring two Kol Koleinu teen feminist fellows advocating for menstrual justice, following Period Action Day. The webinar helped parents and Jewish educators break through the taboo and have conversations to support preteens who will be getting their periods, teens who menstruate, and those who don't but still need to know.
Special thanks to our featured speakers:
Anita Diamant, author of Period. End of Sentence.
Orli Hockenstein & Dahlia Miller, Kol Koleinu Teen Feminist Fellows
Rabbi Tamara Cohen, VP of Program Strategy for Moving Traditions

We hope you will continue the conversation with the preteens and teens in your life and offer these resources to help you.
Watch "Periods and Me" by our Kol Koleinu Fellows
During the webinar, teen feminist fellows Dahlia and Orli introduced a highly approachable and informational video that they created as part Kol Koleinu. We recommend that you share this video in its entirety with the preteens in your lives who will be getting their periods, as a way to start the conversation with them and remove the stigma that surrounds menstruation.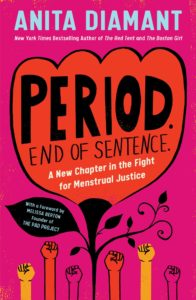 Read Period. End of Sentence.
When the documentary film, Period. End of Sentence. won an Oscar in 2019, Melissa Berton — producer and founder of the non-profit Pad Project — accepted the award by saying, "A period should end a sentence, not a girl's education." Inspired by the film, Anita Diamant has written a book that explores the cultural roots of menstrual injustice, which erodes self-esteem, limits opportunities, and even threatens lives. The book also celebrates a new generation of activists and innovators working to end period poverty and stigma. The New York Times writes, "This hopeful celebration will be a useful tool for raising awareness." Learn more.
Additional Resources
Watch the Webinar
Categories: Past Events, Resources