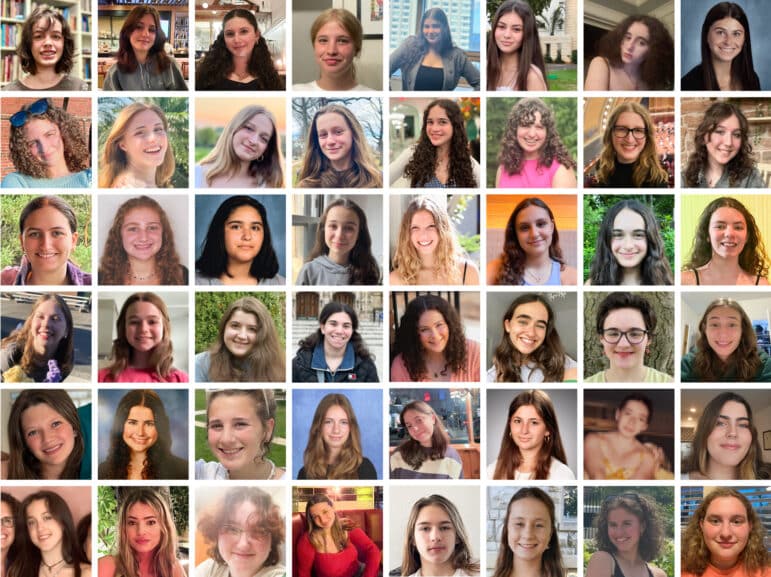 Moving Traditions to bring together Jewish teen activists from across the US to make a difference
July 26, 2023 – Moving Traditions is proud to announce 49 newly selected 2023-2024 Kol Koleinu Teen Fellows from across the United States.
Moving Tradition's Meyer-Gottesman Kol Koleinu Teen Feminist Fellowship, offered in collaboration with the Union for Reform Judaism (URJ) and United Synagogue Youth (USY), is a distinctive opportunity for young Jewish feminists to learn how to effectively speak their minds and create the change they want to see in the world.
Now in its sixth year, the Fellowship is welcoming the next class of competitively selected teen activists to participate in four regional cohorts.
The full list of 2023-24 Moving Traditions Kol Koleinu Fellows has been published on the Moving Traditions website.
Open to Jewish 10th-12th graders of all genders nationally, this year-long fellowship brings teens together online and in person to learn about feminism and social change. The fellows will meet monthly to use their expertise to create projects, together with adult social activist mentors, that teach their peers and advance positive change in their communities. Ten of our current fellows are returning for a second year.
The Meyer-Gottesman Kol Koleinu Fellowship is part of Moving Traditions' suite of programs designed to embolden Jewish youth.
"Every year that we welcome a new class of Kol Koleinu Fellows, Moving Traditions learns at least as much as it teaches from these talented and passionate teens," said Shuli Karkowsky, CEO of Moving Traditions. "Even as we help these fellows explore their individual identities (shleimut), connect to caring communities (hesed), and pursue justice (tzedek), we learn from them new ways to see the world, which are continually helping Moving Traditions improve the work it is doing with all 6,000 teens we serve each year."
Past participants in Kol Koleinu have created social change projects on a broad range of major issues, including body image, voting rights, the need for gender equality within their schools, menstrual justice, and inclusive sex education. Project summaries and links can be found on the Moving Traditions website.
In 2022-23, five of the fellows formed a Kol Koleinu Teen Board to help shape the future of the program. The group formed an alumni network for past fellows, created a website to keep cohorts organized next year, and provided valuable feedback to Moving Traditions staff. Most notably, the Kol Koleinu Teen Board planned and hosted a virtual teen seminar on reproductive rights, Dobbs v. Jackson: One Year Later (read more in JTA).
"We are proud to be partners on the Kol Koleinu fellowship and to support these young adults in making our world more whole, just and compassionate through their work," shares Michelle Shapiro Abraham, Executive Director of Strategic Innovation and Program for the Union for Reform Judaism's Camp, Youth and Immersives team. 
"Each year, I am inspired by the way our fellows speak up and create change in response to what is unfair and unjust in their communities," says Jennifer Anolik, Fellowship Director for Kol Koleinu. "We cannot wait for this new cohort of fellows to build Jewish feminist community together – because we know that community and connection are essential to change-making."
The Hadassah Foundation, The Women of Reform Judaism, NFTY/URJ, Lisa and Douglas Goldman Fund, and many generous individual donors have provided generous support to Moving Traditions to create and expand Kol Koleinu.