Why Gender Matters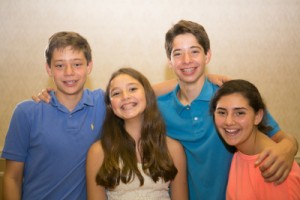 Coming of age is not easy, even for the most socially well-adjusted teen.
Compounding the difficulties, there are profound differences in the ways that teens are judged by their peers and measured by teachers and coaches. Narrow visions of gender continue to dominate advertising, film, television, video games, and the other media aimed at teens.
These narrow definitions of gender can ultimately restrict the self-image and horizons set by teens for themselves.
The reality for many teens in America is that they, or their close friends, wrestle with academic anxiety, depression, bullying, questions concerning sexuality, binge drinking, dating violence, prescription drug abuse, eating disorders, and various pressures to conform to social codes or to defy authority.
Although many Jewish teens have caring parents, we want to ensure that they also benefit from a strong support network within the Jewish community, where adult mentors offer Jewish wisdom that addresses teens' deepest concerns and help them navigate the path to becoming healthy and strong Jewish adults.
We do this not only to raise a generation of Jewish teens who have strong connections to Jewish values and Jewish community, but because of our belief that Jewish teenagers can play a significant role in changing their peer culture. Jewish teens in both public and private schools are often in positions of leadership and influence and we seek to empower them to make their communities more inclusive and just for all young adults.
Three Missing Pieces
Through program development and testing with adolescents, Moving Traditions has uncovered three things that are missing from the lives of most teens.
First, teens often lack a set-aside time with peers that is "outside" of the day-to-day pressures of home, school, or weekend social events. While the 15% of teens who attend Jewish summer camp will experience this at camp, during the school year this respite is mostly lacking. In the words of a teen in one of our research studies, "There is no time to decompress." Immersed in a world of countless connections, teens grow distant from authentic relationship, honest conversation, and sustained peer support.
Second, while many teens have good relationships with their parents, they often lack other adult mentors to help guide them through the challenges of adolescence.
Third, the challenges teens face are often connected to gender expectations and gender-based social roles. Teens value being in a same-gender space where they can ask, "What does it mean to be an adult?" in ways that challenge accepted definitions and envision more expansive gender expression. Teens appreciate a same-gender space where they can speak openly and honestly and learn from each other how to navigate the often confusing gender messages from the wider culture.
A Program Designed with Teens and for Teens
Our model of teen education incorporates these three missing pieces. In addition, we train adult mentors and provide them with curricular resources that integrate the core issues of teen life with Jewish wisdom and a gender lens and we promote a model of facilitation that follows' teens' interests.
The more than 20,000 teens who have participated in our Teen Groups have experienced an alternative model of teen community that is fun, honest, and deeply Jewish. Our approach, which begins by taking teens seriously, has inspired close to 90% of the teens who participate for one year go on to a second year.
By voting with their feet, teens are showing us that they value coming of age in Moving Traditions' kind of teen-centered Jewish community.