We envision a world where every camp counselor or camp staff member can
Challenge the use of sexist language by campers or colleagues
Model consensual touch that is supportive, playful, comforting, and respectful
Help turn down pressure around crushes, romance, and hook-ups
Navigate questions about appropriate and inappropriate dress without shaming others
Create inclusive communities that support diverse expressions of gender and sexuality
Communicate camp policy clearly by reinforcing the values that underlie camp policy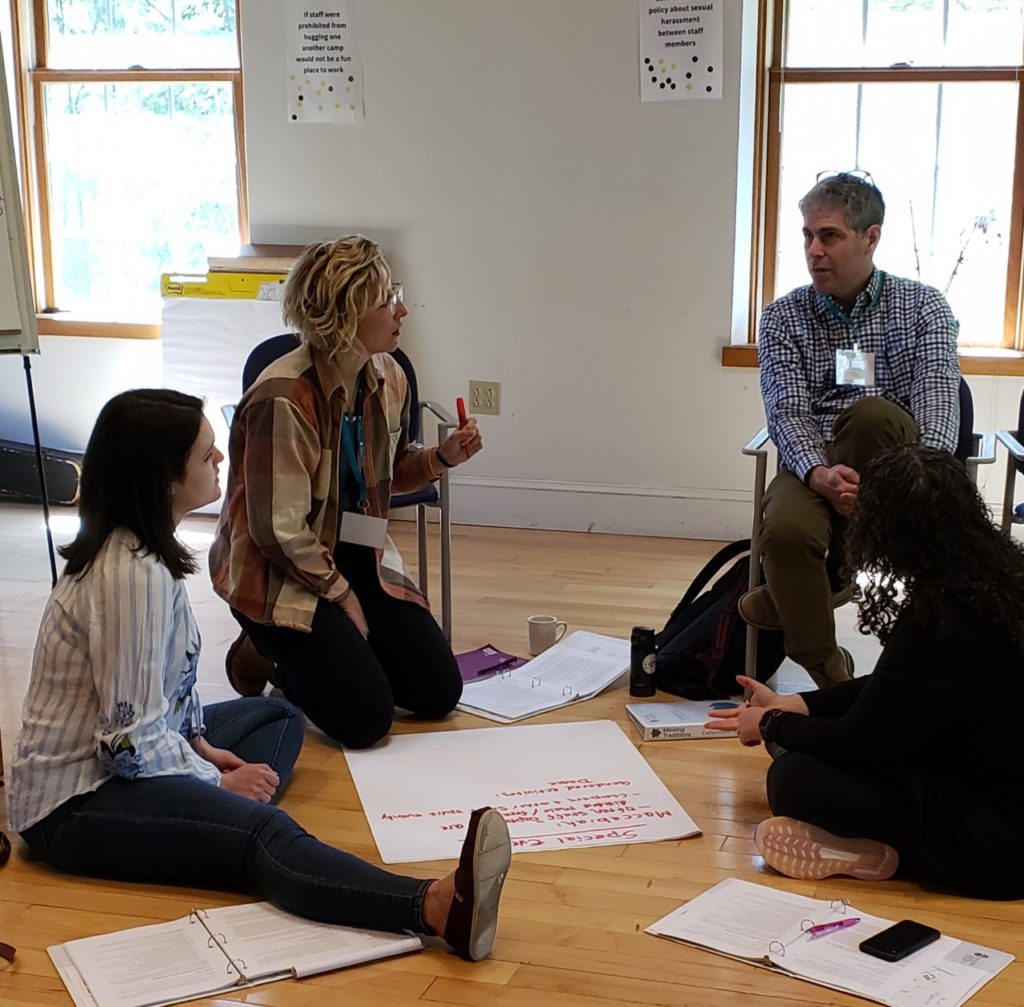 Our model
Moving Traditions trainings recognize that every camp has a unique history and culture – and a new set of staff to integrate each year. For this reason, our training is grounded in a methodology that explores the changing dynamics of gender, sex, romance, and power that are impacting this particular generation of staff. We work to create a professional learning environment where peers can talk honestly and openly about topics that are often difficult to address.
Who is this training for?
In the past three years, Moving Traditions' trainings on gender, sex, and power in Jewish summer camps have been attended by people who work in different roles, including executive directors, assistant directors, camper care coordinators, social workers, and head counselors.
We have learned two things from their post-training reflections:
First, the camps that brought at least two professionals to our trainings were the ones that were able to get the most benefit from this approach. For this reason, we are encouraging everyone to bring two professionals to our training if possible.
Second – We continue to encourage executive directors to attend our trainings, but in the past year of piloting we learned that the training seminar is ideally suited for camp professionals who can apply the conversations raised in training to conversations with the young staff members that they manage, supervise, and counsel. If you are a director who directly supervises young staff, then we certainly encourage you to attend.
Why we do two days of training
We learned in 2018 that trying to cover complex issues like these in a half-day seminar was a good start but not enough. By moving to a two-day format, and tripling the number of hours that we have together to focus on these topics, we can ensure that every professional will come away with new conversations to take to their colleagues and new tools to bring to the staff that they supervise.
A basic overview of the training
Day one of the training explores the ways that staff, counselors, and campers relate to two distinct themes that are important to camp culture:
Sexism: Sexist language, dress and gender codes, peer pressure, abuses of power, and harassment.
Personal boundaries: Healthy touch, consent, relationships, privacy, assault, and abuse.
Day two we will continue these conversations and take each professional through a facilitated process of identifying specific challenges and creating programmatic or structural response to those particular challenges. Professionals will come away with a plan of how they can integrate the learning into staff training, staff conversations, policy directives, supervisory sessions, and crisis management situations.
What to Expect
We are proud to say that the highest rated element of our training was "creating a safe and respectful space where professionals could speak openly about these issues."
One of our educational goals is creating a space where professionals can learn from one another about both the emotional and professional challenges of dealing with the complicated, multi-layered ethical and legal concerns around these issues at camp. The training will be informal, casual, and interactive. Comfortable attire is encouraged.
What specific knowledge and skills will camp professionals develop in this two-day training?
We know that taking two-days for a training retreat is a big deal and involves juggling a busy schedule. For this reason, we want to be clear about what we are trying to achieve with this training.    
Our goal is to create a safe space for Jewish professionals to learn from one another and from Moving Traditions trainers about: 
How to reduce sexism at camp – specifically how to address sexist language, and how to navigate issues around dress. 
How to educate staff and campers about boundaries– from encouraging healthy touch and a practice of consent, to how to handle cases of boundary breaking and abuse. 
How to decrease peer pressure and explore the healthy relationship ethics in the context of friendship, romance and hook–ups (as applicable to each camp's culture). 
How to create an inclusive environment for campers of all gender identities. 
To do so, we will
Explore the specific ways that these issues play out within Jewish communities and to reflect on the Jewish values and perspectives that inform a Jewish educational approach to these topics.    
Give professionals the experience of using Moving Traditions tools to help advance conversations on the above issues with staff. 
Provide camp professionals a structured environment to begin planning ways to integrate conversations on these issues and/or specific tools into their staff training.  
Will This Help You?
We conducted extensive end-of-summer follow up research with professionals from the nine camps that were part of our first two-day training seminar this past year. The camp professionals who trained with us for two days reported the following learning outcomes on a 1-5 scale:
The training or tools helped me have conversations with my staff regarding issues involving:
| | |
| --- | --- |
| Gender and sexuality | 4.3 |
| Crushes, romance, and relationships | 4.6 |
| Dress codes | 4.7 |
| Gender equity | 4.5 |
| Consent and touch | 4.7 |
| Setting appropriate boundaries | 4.4 |
| Communicating to campers | 4.2 |
Three months after the Moving Traditions training camp professionals reported that attending the 2-day retreat exposed them to in-depth conversations on these topics and put them in a better position to speak with and train their staff on these issues.
We also learned that the most important part of this training was the depth of the conversations  – conversations on sensitive topics that began at training and continued with follow-up conversations with other camp professionals, board members, parents, summer staff, and in some cases, campers.
What are the "Tools" Exactly?
Since 2013 Moving Traditions has pilot-tested and revised a dozen tools for staff training at camp, working with over 30 different camps to test, evaluate, and refine tools.  Here is a breakdown of the tools and how they have been used:
TOOLS THAT TEACH CONSENT
Can I See Your Phone?
This activity is about privacy and personal boundaries. How "close" do you allow people in? What determines the boundaries that you set and when you start to worry about them?
Hands and Shoulders
This is a touch-based activity that explores saying 'yes' and 'no' with words, facial expression, and body language.
Jewish texts that teach consent and touch
This guided text study is for Jewish educators and those who would like to explore Jewish values around consent.
TOOLS THAT GUIDE STAFF CONVERSATIONS
Guidelines for Staff-Camper Conversations regarding Crushes and Romance
This staff training exercise asks: What is appropriate for staff to talk about with campers and what is not? How can staff draw from their own experiences in order to support campers, educate campers, and help campers but avoid over-sharing, causing confusion, or shaming campers. The guidelines are a great discussion guide for unit heads to review with their bunk counselors.
Gender-Specific Conversations
Staff working in male-identified bunks and female-identified bunks may have different challenges in terms of peer pressure, sexism, romance, and sexuality. This one-hour, small group discussion based exercise helps model respectful conversation about gender codes and expectations and models a respectful dialogue practice for staff of all genders to discuss these issues.
TOOLS THAT TEACH THROUGH DRAMA
Role-plays
We have designed role-plays that cover many common staff-camper and staff-staff encounters. If your staff is used to doing role plays, these scenes make for great conversation starters.
CultureShift Video Series
Many camps ask their staff to take a corporate sexual harassment training (like Traliant or others) that covers basic information about harassment but seems far removed from the experience of serving on a camp staff. Moving Traditions is currently developing a series of short video-clips that are specific to informal Jewish education environments and cover the following topics:
Consent and touch
Slut-shaming and sexist name-calling
Peer pressure and privacy
Gender-based harassment
Inappropriate hook-ups
Homophobia, transphobia, and gender bias
Social media usage at camp
Quid Pro Quo situations and unhealthy power dynamics
Inappropriate secrecy regarding a camper
TOOLS THAT EXPLORE CAMP CULTURE
Mapping Gender and Power at Camp
This staff training exercise engages all staff and is a conscience raising session aimed at helping staff talk openly and productively about gender codes and sexism.
Action Research on Sexual Harassment, Peer Pressure, Romance, Sex, and Sexuality at Camp
This staff training exercise engages bunk counselors in dyads to learn from one another about a subset of summer camp issues related to relationships and romance at camp and to problem solve on how to address those issues.
TRAINING INFORMATION FOR 2021
Moving Traditions is currently in dialogue with camps that are planning to open for summer 2021. If you are a camp professional and are interested in working with us in 2021, please see our 2021 training page. 
For more information, please contact Eve Berger at eberger@movingtraditions.org.
Learn more about CultureShift:
Cultureshift Initative Helps Camp Create a Safe Environments in the #metoo Era" – Jewish Journal
Moving Traditions greatly appreciates the following Foundations who are among the supporters of the important work of CultureShift


The Lasko Family Foundation
Categories: Training