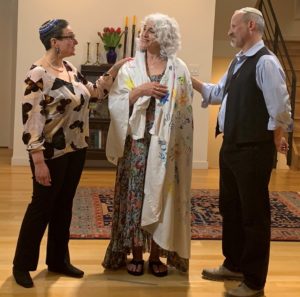 A Virtual Evening of Celebration, Learning, and Inspiration
On March 15, 2022, Moving Traditions hosted an evening of celebration, learning, and inspiration to honor founding CEO Deborah Meyer as she passes the torch.
Deborah led Moving Traditions with vision, passion, wisdom and endless caring. Under her direction, Moving Traditions has grown into the strong and stable organization it is today, which has emboldened more than 28,000 Jewish youth through its work with more than 500 Jewish institutions. The March 15 tribute to Deborah included an interview by Abigail Pogrebin, music by Batya Levine and Rena Branson, teaching, words of appreciation, and a special dedication of the newly named Meyer-Gottesman Kol Koleinu Teen Feminist Fellowship. Naming the Fellowship honors Deborah and Sally Gottesman's founding partnership in creating Moving Traditions and celebrates the tremendous joy we share in lifting up the rising generation of Jewish feminists who are working together for change.
Watch the full event recording below.
Check out the moving tribute to Deborah Meyer.
Watch Deborah Meyer's interview with Abigail Pogrebin.
Check out the event journal slideshow.
Watch Fellowship Director Jen Anolik's interview with Meyer-Gottesman Kol Koleinu Fellows.
If the program inspired you, it's not too late to make a donation to the Meyer-Gottesman Kol Koleinu Renaming Campaign and help launch the next phase of Moving Traditions' future as we inspire even more young people. Click here to donate.