Bat Mitzvah Comes of Age — Interview Excerpts from Moving Traditions on Vimeo.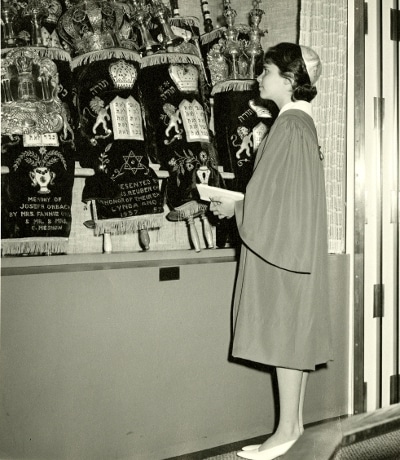 In less than 100 years, the bat mitzvah has gone from being a radical act to an expected milestone in Jewish life.
To tell the stories of the women who pioneered this "new tradition," and to illustrate how Judaism continues to evolve, Moving Traditions and the National Museum of American Jewish History created the  traveling exhibit, Bat Mitzvah Comes of Age.
Launched at the JCC in Manhattan in April of 2012, the exhibit traveled to many venues across the United States. We are now writing the next chapter of the story, determining how to get the materials to more people.
Stories for the exhibit were collected in a Moving Traditions survey, drawn from across the American-Jewish spectrum, from secular to Orthodox and from small town to urban center.
"We heard from women who, as girls, were willing to challenge the gender expectations of their time," said Rabbi Carole Balin, professor of Jewish history at HUC-JIR in New York, who is also an exhibit curator and Moving Traditions Board member. "With their help, girls and women moved from the margins to the center of Jewish life."