We invite gender diverse/trans/nonbinary preteens and their parents to explore becoming Jewish teenagers—as it relates both to gender identity and to the passage into adolescence, honoring all aspects of who they are as they go through the b-mitzvah process.
In recognition of the additional aspects of the coming of age journey and the b-mitzvah process for young people with identities beyond the gender binary, we are excited to be offering a program specifically for those youth and their parents.
About the Program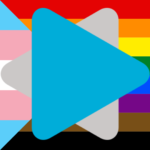 This program grows out of two aspects of Moving Traditions research-based work that have served thousands of youth and their families for the past few years. The Moving Traditions B-Mitzvah Family Education Program is a family education-focused approach to b-mitzvah that connects Jewish wisdom to the interpersonal and social elements that come up as children enter the teen years. Moving Traditions' Tzelem groups, offered in collaboration with Keshet, were created to serve the needs of trans and non-binary Jewish teens through monthly meetings with a trans or non-binary mentor. Recently some Tzelem groups have expanded to serve LGBTQ+ teens, many of whom are also exploring gender identity.
The Moving Traditions B-Mitzvah Program  – created by rabbis, social workers, and educators – aims to help parents and preteens to explore what it means to celebrate this milestone as part of their adolescent and gender journeys,  and what it means to be the center of attention during a life cycle ritual, to navigate expectations from friends and family, to find Jewish meaning in the ceremony, as well as looking at other social-emotional challenges and the joys associated with the b-mitzvah and coming of age. The program offers support for families and preteens seeking to build authentic rituals and ways of being on the day of their b-mitzvahs and every day, while countering cultural pressures that encourage the performance of a singular way to be – a Jew, a family, a gendered human.
Please note that this program is not a preparation for a b-mitzvah ceremony, but a place to explore together the many issues related to becoming a teenager, and gender identity, that come up during that process. If your family is looking for a synagogue or community to prepare for b-mitzvah ceremony, we are happy to connect you with our Supporting Partners!
Getting Started
The group will meet on Zoom eight times during the school year (approximately monthly; dates/times TBD with the cohort), led by facilitator Chaplain Reed Kolber (they/them). Half of the sessions will be for the preteens only, and half will include their parents. In family sessions, there will both be discussions all together, as well as in breakout rooms for parents and preteens separately. During the family sessions, guest facilitators from our Supporting Partners* will join to co-facilitate.
Registration fee: $250 per family; please be in touch if the cost is a barrier.
Questions: contact Reed Kolber.
Register Now
This program will meet from 2:30 – 3:45 p.m. PST on the following Sundays:
November 7, Session 1: Family
*Please join us for this first session to learn more! Parents and preteens welcome!*
(To RSVP to attend the first meeting without registering for the full program, please do so by emailing Reed Kolber.)

December 5, Session 2: preteen
January 23, Session 3: preteen
February 13, Session 4: family
March 6, Session 5: preteen
April 3, Session 6: family
May 1, Session 7: preteen
June 5, Session 8: family
Facilitator Bio: Reed Kolber
Reed Kolber (they/them) is a passionate teacher, spiritual counselor, and musician. They have led Gender Spectrum's online support groups for LGBTQ+ teens living all over the world.  With over ten years of experience across Jewish movements and interfaith settings, Reed completed their chaplaincy residency at St. Mary's Medical Center where they focused on bringing yoga, music, and spirituality practices to the adolescent psychiatric ward. Reed is a hospice chaplain, certified massage therapist and yoga teacher, and has had a spiritual counseling, life cycle facilitation, and bodywork private practice for the past decade. Reed received their Bachelor of Arts from Brandeis University in Women's and Gender Studies. They studied at Pardes in Jerusalem in a Year Fellowship Program and for two years at the Ziegler School of Rabbinic Studies. Reed completed a Masters in Judaic Studies, specializing in Jewish Values, Ethics and Action from the Academy of Jewish Religion of California. Their master's capstone project "Rainbow Lev, Jewish LGBTQ+ Teen Leadership Program Empowering Through Creative Ritual" received Jewish Innovation grants from Reconstructing Judaism and Clal to support the continuing of the project. In 2021, Reed received the Mintz Family Foundation award for Creative Jewish Education. Reed currently serves as the Community Manager at the Safety, Respect and Equity Network and lives in the San Francisco Bay Area of California with their partner Maggie and their pup named Quincy.
Program Sponsors:
This program is offered with the support of the following partners: