Please join us for a unique afternoon for Jewish 8th and 9th grade girls and their parents in Boulder to get a "taste-of" what Rosh Hodesh is all about. This intimate gathering will be fun for both parents and teens, enable us to meet each other as well as the caring, compelling and cool group leader, Jenny Sandler. The first Rosh Hodesh session will take place in September and meet once per month for two hours, September through May. Following the "Taste-Of," you can register your daughter if desired. As we will offer some nosh, please RSVP so that we can plan properly.
Sunday, September 16, 5:00 – 7:00 p.m
Location TBD, Boulder, CO
To RSVP, please contact Jen Kraft, Colorado Director, at jkraft@movingtraditions.org or 720-295-8665. The address will be emailed.
Please share this invite with any other Jewish families with daughters in 8th and 9th grade.
About Jenny Sandler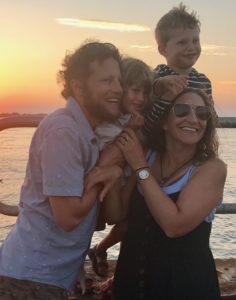 Jenny has been doing group work for many years as an LCSW and CAC II with adolescents and families. She has been at home with her 6.5 and 3.5 year old and has loved the new opportunity to facilitate Rosh Hodesh groups. She is originally from upstate New York but has loved living in Colorado for almost 13 years. Jenny enjoys being outside with her family including her 2 dogs.
"It is truly a honor to bare witness to the individual and group growth of young Jewish women as they tackle and grapple with modern day stressors and struggles while using a Jewish lens to explore and support them along the way."