Learn more about each of the trainings we offer:
Moving Traditions trains professional educators and volunteer mentors to help tweens/teens in their communities to bring Jewish values to bear on the highly-gendered challenges of their lives.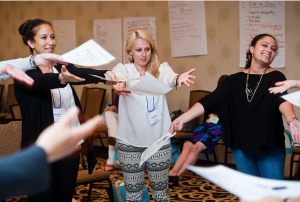 Moving Traditions' national training conferences are thought-provoking, skill-building, and spiritually uplifting seminars for professionals who are preparing to lead Moving Traditions' programs in their communities (the B–Mitzvah program, Rosh Hodesh, Shevet, Tzelem, and Kulam). Conference participants will practice Moving Traditions' approach incorporating gender and Judaism into an experiential program for adolescents. They will learn from one another in an open, inclusive, and pluralist Jewish context. Past participants have said:
"Your training was hands down the best I've ever attended. It was productive, insightful, new, and interesting. I'm really looking forward to next year (with my group)."
"The training experience was phenomenal, we learned why this approach is so necessary in American Judaism today and we learned how to successfully implement the program into our community."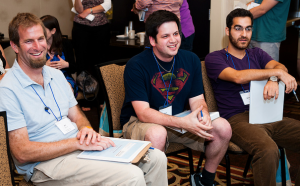 Conference participants come from synagogues, JCCs, and other organizations. They include rabbis and professional Jewish educators, as well as lawyers, social workers, physicians, and artists who come from across the spectrum of Jewish life – Orthodox, Secular, Reform, Conservative, and Reconstructionist. At previous conferences, 93% of participants felt that the training inspired them to take a new approach to mentoring Jewish teens, and 97% reported that the training had enriched their own Jewish education (click here to see photos).
Our Training Philosophy
Why is it so critical to encouraging educators and mentors to focus on "gender" with Jewish adolescents?
Even in a world with more expansive gender codes, gender-specific social codes and expectations inform how preteens and teens are told to dress, speak, walk, dance, pray, participate in class, take on leadership roles, handle tension with friends and parents, take on academic, athletic, and creative challenges, explore sexuality, take risks – gender codes are what adolescents are "swimming" in and what have, in many ways, shaped them. Fortunately, Jewish values regarding character development and ethics can help preteens and teens to think critically about these codes and to develop an expansive view of what it means to be a "mensch."
In our training, the Moving Traditions educational team explores the ways that we can help adolescents to navigate the gender codes around them, to resist narrow definitions, and to create experiences in the Jewish community and beyond it where all people feel responsible for one another and feel free to be themselves.
The training is offered by a team of passionate, dedicated and high-energy professionals with a thoughtfully designed curriculum. The Moving Traditions team strives to arm Jewish educators (at all levels) with an accessible approach for facilitating as leaders/supervisors while igniting their love and interest in nurturing the growth and development of girls and boys.

–Group Leader Trainee