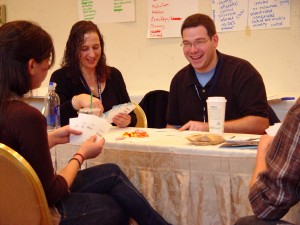 Moving Traditions advances a model of Jewish education that helps pre-teens and teens think deeply about gender, cultural expectations, ethics, and Jewish life.
Moving Traditions prepares Jewish educators and clergy to engage teens, preteens, and families with high quality, adaptable, and responsive resources to meet rapidly changing needs.
With training and coaching on how to best support healthy youth development and lift up Jewish teen engagement, we work together with our partners to foster strong Jewish identities and communities. Now that all our trainings are online, we are reaching more Jewish professionals—making it easier and less expensive for them to participate. And, now that we invested in adapting all our curricula, our programs can be delivered in person or online, providing great flexibility to our partners to adapt as needed.
Moving Traditions continues to release responsive curricula over the course of the year on emerging issues that matter to Jewish youth. These curricula are available to all Jewish educators and professionals, including those who partner with us, and those turning to Moving Traditions in the moment as events arise.
We partner with synagogues and other Jewish institutions to bring our programs to their communities. Each institution appoints a supervisor to hire and oversee the facilitators who implement our B-Mitzvah Program (6th-7th grade) Teen Groups (Rosh Hodesh, Shevet and Tzelem, all starting in 8th grade) and our new teen curriculum for Hebrew High School, Kulam  (starting in 8th grade)
In turn, Moving Traditions provides:
A field-tested curriculum based on extensive research—now available online.
Vetting of potential group leaders.
An intensive national Training Conference for educators.
Ongoing coaching and support for supervisors and group leaders throughout the program year.
The opportunity to be part of a network of educators who are pioneering a powerful model of Jewish learning and living.
What makes Moving Traditions' approach to Jewish education unique? Read more about our perspective on gender and coming of age.
If you currently are a Moving Traditions partner, click here to access Rosh Hodesh resources and here to access Shevet resources.