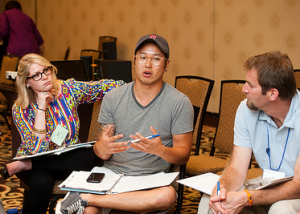 Visiting a Training Conference is a great way to experience Moving Traditions' model of experiential Jewish education.
In addition to observing how educators are taught to combine Jewish values, a gender lens, and an understanding of teen development, you'll have the opportunity to meet the women and men who are committed to helping teen girls and boys come of age in Jewish community.
Boston: July 28, 2014
Embassy Suites Boston Logan Airport
4:00-5:45 Observe Moving Traditions Training
5:45-6:30 Cocktails with Group Leaders and Moving Traditions Staff
Los Angeles: August 19, 2014
At the University of California, Los Angeles, Covel Commons
1:15-4:30 Getting Real With Teens, a professional development seminar for supervisors and experienced group leaders.
Click here for more information about the Training Conferences and bios of our training faculty.
Please RSVP to let us know which Training Conference you will visit. I hope you will join us!