Make a difference in the lives of Jewish teens by becoming a Moving Traditions mentor!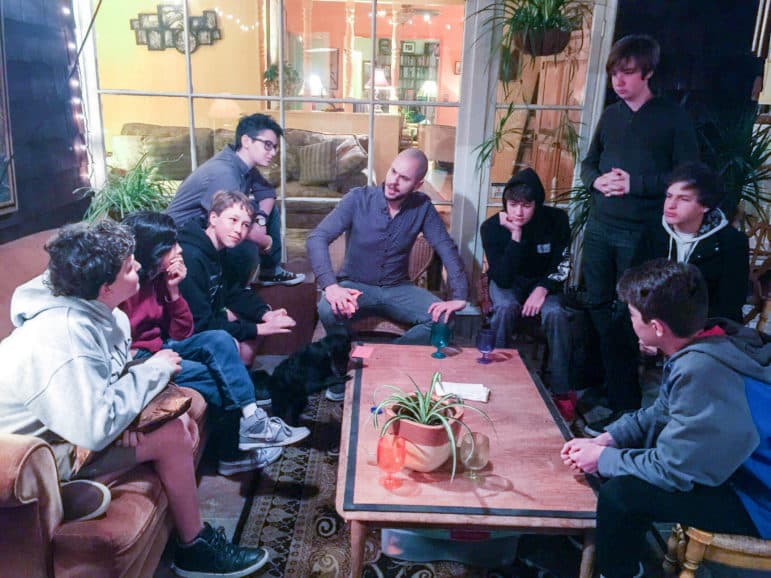 Moving Traditions works with our partners to place dynamic and creative group leaders in their communities to our programs for teens (Rosh Hodesh, Shevet, and Tzelem). These field-tested and innovative programs draw on Jewish wisdom and values to foster the self-confidence and identity of Jewish adolescents. Our groups offer a supportive, safe, and sacred space for teens to openly explore important questions about society and identity, and feel empowered to challenge traditional gender roles. Group Leaders serve as mentors to and role models for their teen participants. Moving Traditions provides experiential training retreats for Group Leaders and supplies curriculum, resources, and ongoing support. This is a unique, paid position for enthusiastic and passionate adults of all ages and backgrounds who would love to spend two hours, once a month, working with a small group of Jewish teens. We will work with you to place you with a partner in your area.
The Ideal Group Leader
You are someone who:
"gets" teens and loves working with them;
has the ability to and feels comfortable with facilitating meaningful discussions and experiential activities related to Judaism and gender by employing a range of modalities;
is passionate, organized, motivated and a good role
The adults who lead groups across the country are a diverse group: Jewish communal professionals, educators, social workers, lawyers, doctors, artists, chefs, actors and software engineers. Join us!
Responsibilities:
Attend a Moving Traditions' Training Conference
Support your supervisor in recruitment efforts and retention efforts
Sustain an ongoing group through monthly, two-hour gatherings, followed up with regular communication to parents
Use provided materials and personal creativity to facilitate fun and meaningful gatherings
Manage group dynamics and maintain appropriate boundaries. Identify and act upon any issues that require follow‐up or referrals
Become familiar with current popular culture through television, teen magazines, and other teen‐targeted media
Help evaluate the program's effect on the participants
Interface periodically with Moving Traditions' staff to report on the ongoing status of the group
Interested in learning more about leading a teen group? Fill out the form below.