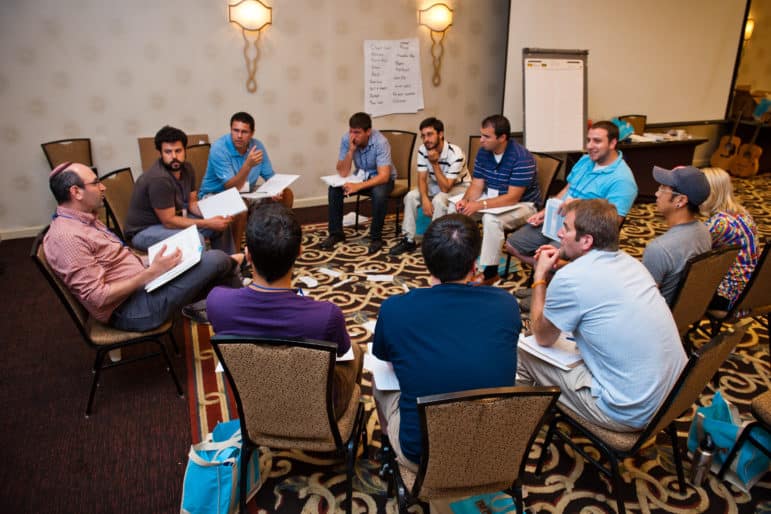 Today's Jewish youth need our help as they navigate the joys and challenges of adolescence. Together, we can create safe spaces where Jewish teens and preteens can build their confidence, create caring connections, and honor the past while helping move the world forward.
We invite you to partner with us to bring Moving Traditions' programs to your community. Our partners receive:
Everything you need to launch youth programs that connect Jewish wisdom to social-emotional learning to help teens thrive.
Research-driven and proven resources imbued with our unique approach to help preteens, teens and their parents explore and make meaning of the issues they care about most.
Training for clergy, Jewish educators, and other adult mentors to facilitate open and honest conversations and transformative Jewish experiences.
Moving Traditions' curricular materials are easy to use, designed to be "plug and play," with a flexible framework so that sessions can be delivered online or in person as needed.
Partner with Moving Traditions
Ready to become a partner? We look forward to working with you to engage the Jewish youth in your community. Submit your application today to get started.
Our Programs
All of Moving Traditions programs help Jewish youth figure out who they are, develop a moral compass, and relate to others with compassion and respect.
B-Mitzvah Family Education

A framework for preteen family education, for 5th-7th graders and their parents to explore what it means to become and parent a teen
Teen Groups

Transformative communities – including Rosh Hodesh, Shevet, and Tzelem – where youth explore who they are through Jewish and gender lenses, together with a trained mentor using a dynamic curriculum
Kulam
A plug-and-play curriculum for educators to use in Hebrew High Schools where teens explore themselves, their relationships, and their communities
Join our network of more than 200 partners across North America in 2022-23 offering these programs, with transformative and lasting results:
92% of educators and clergy say Moving Traditions' programs helped preteens and teens connect Jewish wisdom to their social-emotional development.
87% of parents in the Moving Traditions B-Mitzvah Family Education Program reported that the experience helped them feel like they are part of a Jewish community that supports them as a parent.
87% of teen group participants described their experience in the group as "good" or "great."
"By taking advantage of the evolving curriculum, the facilitator sessions, and the expertise of our regional director, our program is more robust, more educationally sound, and is making a real impact. The Moving Traditions staff and materials are a necessary piece of the puzzle."
–Rabbi Mara Young, Woodlands Community Temple, White Plains, NY
Partnering with Us
Moving Traditions partners with Jewish institutions like yours to bring engaging teen programs to your community. We train your educators and facilitators, who will have 24/7 access our materials through an online curriculum portal.
Our materials are regularly updated based on feedback from those running the programs in the field. As current events and issues arise, we distribute new material throughout each program year. Advanced trainings are also available on topics such as Healthy Sexuality, Best Teen Recruiting Strategies, and more.
Questions? Contact us or find your local Regional Director.
Apply Now
Are you ready to become a partner? We look forward to working with you to bring our programs to the youth of your community. The application below will take you about 10 minutes to complete. If you would like to preview the questions, you can download the application questions.