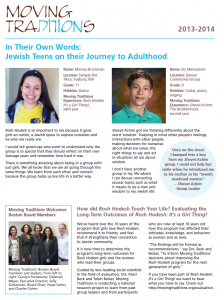 This year, Moving Traditions is making it possible for 4,000 Jewish teens to meet monthly in our programs Rosh Hodesh: It's a Girl Thing! and Shevet Achim: the Brotherhood in partnership with more than 200 congregations, schools, JCCs and camps of all denominations .
In each group, a minyan (10) of middle or high school girls or boys experience the power of a Jewish community, made safe by a Moving Traditions-trained adult mentor. The highly-gendered challenges of their everyday lives are addressed with Jewish values, inspiring teen girls and boys to stay connected to Jewish community after b'nai mitzvah, through high school – and beyond.
Given that excellent Jewish educators are central to the task of inspiring the Jewish identity and character development of teens, in 2014 Moving Traditions is training and coaching an increasing number of Jewish educators – more than 1,200 to date – to deeply touch the lives of Jewish pre-teen and teenage girls and boys through Rosh Hodesh and Shevet Achim, and we are providing professional development to teen educators working in other programs.
Thank you for your help in making Moving Traditions' work possible.
Read in the full report how our programs impact the lives of teens from the perspective of their mentors and the teens themselves.