Moving Traditions 2021 Benefit Honoring Renée Sackey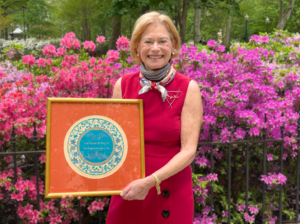 On Tuesday, May 4, 2021, Moving Traditions celebrated Renée Sackey and our work emboldening Jewish youth to "Connect, Challenge, and Change."
Click here to read Renée Sackey's bio.
Click here to view the 2021 Benefit Committee.
Click here to view the Benefit Journal.

Watch the full event recording below.
Check out the moving tribute to Renée Sackey and her passionate support for Moving Traditions work.
Learn more about how Moving Traditions Teen Groups—Rosh Hodesh for girls, Shevet for boys and Tzelem for LGBTQ+ teens—support wellbeing and mental health of teens throughout the critical adolescent years.
Hear from Cantor Chanin Becker and the Loeser family about how the Moving Traditions B'nai Mitzvah Family Education Program brought parents and their children together in meaningful conversation around what it means to become and to parent a Jewish teen.
Gain inspiration from the incredible teen activists in the Moving Traditions Kol Koleinu Teen Feminist Fellowship.
Categories: Past Events