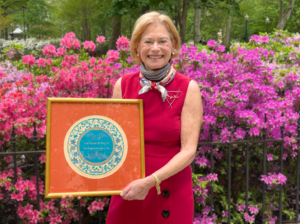 On Tuesday, May 4, 2021, Moving Traditions celebrated Renée Sackey and our work emboldening Jewish youth to "Connect, Challenge, and Change."
Click here to view the 2021 Benefit Committee.
Click here to view the Benefit Journal.
Watch the full event recording below.
Check out the moving tribute to Renée Sackey and her passionate support for Moving Traditions work.
Learn more about how Moving Traditions Teen Groups—Rosh Hodesh for girls, Shevet for boys and Tzelem for LGBTQ+ teens—support wellbeing and mental health of teens throughout the critical adolescent years.
Hear from Cantor Chanin Becker and the Loeser family about how the Moving Traditions B'nai Mitzvah Family Education Program brought parents and their children together in meaningful conversation around what it means to become and to parent a Jewish teen.
Gain inspiration from the incredible teen activists in the Moving Traditions Kol Koleinu Teen Feminist Fellowship.
About Renée Sackey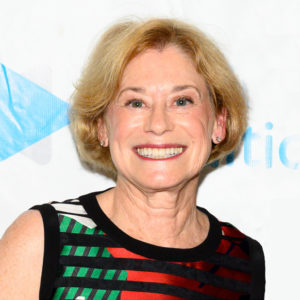 A respected lawyer and businesswoman, Renée brought to Moving Traditions her impressive experience in the corporate world and her tireless advocacy for girls and women in the Jewish community and beyond. Through her service on the Board of Directors and as a long-time funder, Renée helped to strengthen Moving Traditions and advance a portfolio of programs that emboldens Jewish youth – and the adults who work with them – to navigate the challenges of adolescence, and to thrive.
Renée's impact on the greater Philadelphia business community is significant, as a founding director of Team Capital Bank, and Vice-President and General Counsel of RE/MAX of Pennsylvania and Delaware. The loving mother of five and grandmother of nine, even with a busy career and growing family, Renée always made time for communal leadership. As Board Chair, she helped build Women of Vision, the Jewish Women's Foundation of the Jewish Federation of Greater Philadelphia. Renée also served on the boards of Abramson Senior Care, the Montgomery Bar Association, and the Trustee's Council of Penn Women.
"A trail-blazing role model for emerging leaders today, Renée has emboldened girls and women of diverse backgrounds to claim positions of authority," said Moving Traditions Board Chair, Rabbi Darcie Crystal. "We are delighted and honored to celebrate Renée for her investment in Moving Traditions and the Jewish community, so that people of all genders can 'connect, challenge, and change' our society for the greater good."