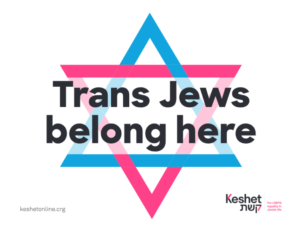 Moving Traditions and The Tent are excited to partner and bring you Tzelem, in collaboration with Keshet, a monthly program for trans, nonbinary, genderqueer, and questioning teens in Boston.
Moving Traditions is a national organization that emboldens teens to flourish by fostering self-discovery, challenging sexism, and inspiring a commitment to Jewish life and learning. Tzelem is for teens in grades 8-12.
Each month the group talks about key issues like life transitions, healthy relationships, body positivity, self-compassion, mental health, intimacy, and Jewish identity. The group will meet once a month online with the possibility of meeting in person at a later date.
Learn more about our program and group facilitator, Rabbi Noam Lerman, on an interactive webinar for teens on Sunday, November 1 at 5:00 p.m. EST.
For more information, email Stacy Shapiro at sshapiro@movingtraditions.org or Fallon Rubin at
frubin@tisrael.org.