FOR IMMEDIATE RELEASE
Amid Challenges Facing Jewish Preteens and Parents Today, Family Education @ B-Mitzvah Offers Meaningful New Engagement
Moving Traditions calls on communal leaders to strengthen families and their connection to Jewish life with a new framework of preteen family education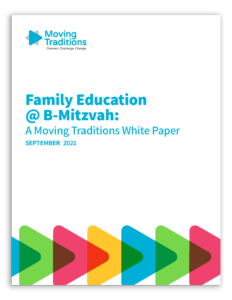 Philadelphia, PA – September 23, 2021 – To help address the often-challenging transition from childhood to the teen years, made even more stressful by the pandemic, Moving Traditions today released Family Education @ B-Mitzvah, which calls on the Jewish community to embrace a new framework for family education at adolescence. The approach suggests that by integrating Jewish wisdom with social-emotional learning, the Jewish community can provide support and a sense of belonging—which are needed more now than ever, as more preteens struggle with mental health and social isolation.
The publication shares key findings from implementing the Moving Traditions B-Mitzvah Family Education Program in partnership with 110 organizational partners, and includes a call to action informed by Moving Traditions' June 10, 2021 convening of 50 leading scholars, Jewish educators, activists, and funders. (Moving Traditions has adopted the term "b-mitzvah" in place of "b'nai mitzvah" in recognition of trends in gender fluidity.)
"Adolescence can be a fraught stage of life for many families, and even more so now," says Deborah S. Meyer, Moving Traditions Founder and CEO. "The opportunity is ripe for a new timeframe and approach to Jewish family education. To strengthen Jewish families and Jewish life, family education in the preteen years needs to become as normalized as family education for preschoolers."
Preteens—and by extension, their parents—face unique challenges and opportunities today from omnipresent technology and new ideas about gender, sexuality, race, and other layers of identity. Preteens must also navigate achievement culture, virtue signaling, Instagram envy, hyper-sexualized content, racial injustice and antisemitism, and polarized political discourse.
These factors were already present before COVID-19; the pandemic has only heightened them. With the anxiety and stresses of the past 18 months, there has been a surge in the number of preteens and teens needing psychological and psychiatric support.
The collective challenge and opportunity—as proposed by Moving Traditions—is to offer Jewish experiences where preteens and their parents are supported in making sense of the world, confirming their values, and communicating with clarity and empathy. The Moving Traditions B-Mitzvah Family Education Program is based on a SEL-model of Jewish family education that balances preteen self-reflection and peer discussion with parent-child explorations of family dynamics and Jewish ethics, both within private conversations and in a communal setting. Evaluation research found that, for participants in Jewish preteen family education:
Jewish wisdom speaks to families in this life stage—especially during the pandemic:
Preteens and parents find support, relevance, and meaning in experiences integrating Jewishteachings with secular wisdom on social-emotional learning and well-being.

91% of clergy and educators reported that the program aided them to help preteens connect Jewish wisdom to their social-emotional development.

Hevruta strengthens connections between parents and children:
Preteens and parents value the opportunity to be in meaningful dialogue with each other, drawing on Jewish and secular wisdom about issues of concern to them at this new stage of life, as children become teens.

77% of parents reported having valuable conversations with their child during family sessions.

Jewish community supports families when it relates to their lives:
By effectively addressing the joys and challenges of preteens and parents, clergy and Jewish educators demonstrate to families that Jewish community is a place for support and connection.

83% of preteens reported that the program helped them feel like they are part of a Jewish community that supports who they are.
With these findings, Moving Traditions feels even more urgency to build this new frame of Jewish family education for preteen families today. The years leading up to and through the b-mitzvah provide the perfect opportunity to support preteens and teens, when most Jewish families are still engaged in Jewish life.
"So much of the b-mitzvah experience is not relevant to teens' lives," said Rabbi Noah Arnow, of Kol Rinah in St. Louis, MO. By contrast, in the Moving Traditions curriculum, which Arnow is now using in his synagogue, "The topics are things preteens are either experts in (because of their age) or things they're interested in dealing with." As Arnow summarizes, "There's nothing here that they're not interested in."
Moving Traditions was created with the understanding that Jewish people and practice will thrive as Judaism continues to evolve—as it always has—to meet the challenges facing Jewish people. As with the organization's Teen Groups, the B-Mitzvah Program is implemented mostly in partnership with synagogues and other organizations, and the curriculum reflects their input and creativity. Since the B-Mitzvah Program was developed, Moving Tradition has touched the lives of nearly 13,500 preteen and parents.
Moving Traditions commits itself to building the field of Jewish preteen family education and invites others to join us. The organization will continue supporting clergy, lay leaders, and educators with training and Jewish social-emotional curricular resources to meet the challenges facing preteens and families today, through the Moving Traditions B-Mitzvah Family Education Program. Jewish leaders are invited to help bring this experience to more families and communities and to commit to enrich other programmatic offerings, as described in the white paper.
In addition, informed by conversations at the June 10 convening, Moving Traditions believes that Jewish education and engagement we will all have greater impact when Jewish leaders and organizations:
Affirm the diversity of Jewish people by expanding narrow conceptions of "Jewish identity" that exclude preteens and parents based on their racial, gender, sexual identities, dis/abilities, or the multiple faith traditions within their families.
Help preteens and parents to navigate the challenges of adolescence today, in a Jewish framework, including puberty, stress and emotional well-being, gender expression and identity, and early adolescent sexuality.
Deepen the opportunity of the "mitzvah project" by linking it to systemic social change, inspiring preteens and their parents to initiate a longer-term engagement in mitzvot (good deeds) and tzedek (justice), including learning about large-scale changes needed to address social inequities and to protect the planet.
"Please join Moving Traditions and a growing community of academics, educators, activists, and funders in developing this new framework of Jewish preteen family education," invites Meyer. "Together we will create Jewish experiences where preteens and their families can learn, explore, and feel more connected to each other, and to Jewish life."
###
About Moving Traditions
Moving Traditions inspires Jewish youth of all genders to pursue personal wholeness, healthy relationships, and a just and inclusive world. We advance our mission by investing in the Jewish community—partnering with synagogues, JCCs, camps, and other institutions, and training clergy and Jewish educators to implement our programming—so that Jewish preteens and teens will grow and thrive. Our suite of programs includes Moving Traditions B-Mitzvah Family Education Program for preteens and parents; Teen Groups, with Rosh Hodesh for teen girls, Shevet for teen boys, Tzelem for LGBTQ+ teens, and Kulam for everyone; and the Kol Koleinu Teen Feminist Fellowship. Through the CultureShift initiative, Moving Traditions prepares camp leaders to train counselors to prevent sexual harassment and assault and to promote a culture of safety, respect, and equity at Jewish camp. Since it was established in 2005, Moving Traditions has emboldened more than 28,000 preteens and teens by partnering with more than 500 Jewish institutions across North America. Learn more at www.movingtraditions.org.