by Ellen Futterman, Editor, St. Louis Jewish Light, August 10, 2016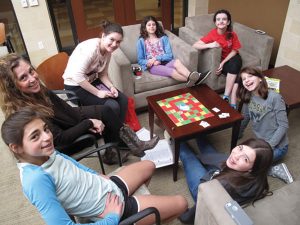 Amarah Friedman first got involved with Rosh Hodesh: It's a Girl Thing! when she was entering fifth grade. The girls Jewish youth program, hosted locally by Nishmah at the Jewish Community Center, is based on a national program called Moving Traditions. According to its website, the experimental education program uses "Jewish teachings and practices — in a five-year cycle of curricular materials — to give girls a place to feel safe, articulate their deepest concerns, consider the impact of gender on their daily lives, have fun, and be 'real' with their peers." In St. Louis, the program is designed for girls entering fifth through eighth grades.
Since its inception here in 2006 (nationally it was begun in 2002), some of the girls who join may spend a year or two attending, but then drop out because of other time commitments such as homework, extra-curricular activities and bat mitzvah studies, explains Simone Picker, who coordinates the program at Nishmah. Later this month, however, when the program resumes, the majority of the girls who began in fifth-grade will return for their fifth consecutive year, now as as ninth-graders.
The group meets once a month for two hours. Picker says this particular group, led by 46-year-old Orna Isaacson, "has been so strong, and bonded so thoroughly, that they voted to extend the program a year because they didn't want it to end."