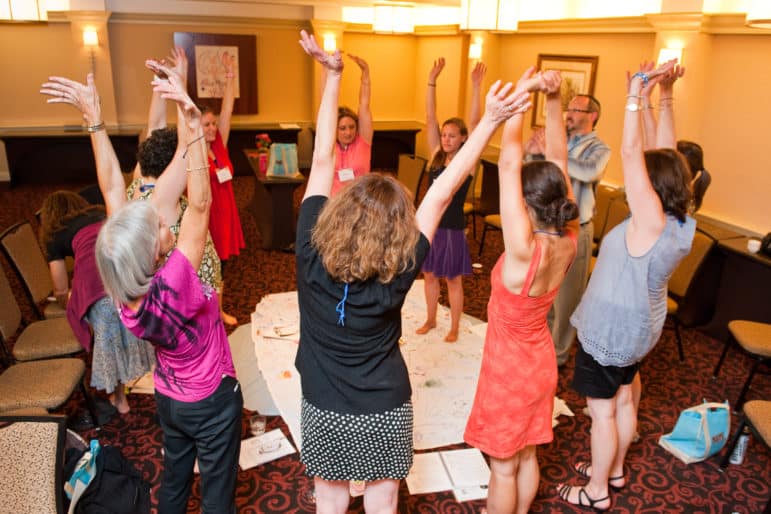 The Kulam Training is intended for educators facilitating Kulam.
Trainees will learn:
The Moving Traditions approach to working with teens in a school setting
How to help teens ask big questions about where, why and how they belong
Best practices for facilitating authentic and dynamic conversations with teens
Training for Kulam: Camp Setting
Our camp setting training takes places online. For more information, please contact Pam Barkley.
Thursday, June 8 from 7:00pm – 8:30pm EST / 4:00pm – 5:30pm PST
Training for New Educators
Registration is open to partner sites who offer or who plan on offering our Kulam program for the first time. The cost for the online training is $100.00 per new partner site, for all participants. Choose one of two sessions:
Session 1: Monday, August 28, 7:00 pm – 9:00 pm EDT / 4:00 pm – 6:00 pm PDT
Session 2: Tuesday, October 10, 1:00 pm – 3:00 pm EDT / 10:00 am – 12:00 pm PDT
Training for Returning Educators
For our returning Kulam educators, we are offering a webinar to introduce you to our new materials. Registration is open to partner sites who have previously attended a Kulam Training session. There is no charge for this webinar for our returning partners.
At this training, you will learn:
What new sessions are now available for you to use in the upcoming year
How the curriculum has been updated to reflect feedback from teens and educators
What the partnership with Moving Traditions entails for the new school year
Choose one of two sessions:
Session 1: Tuesday, August 29, 1:00 pm – 2:00 pm EDT / 10:00 am – 11:00 pm PDT
Session 2: Wednesday, October 4, 1:00 pm – 2:00 pm EDT / 10:00 am – 11:00 pm PDT