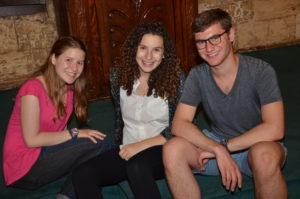 We know you love your Moving Traditions Rosh Hodesh and Shevet Achim groups—even if you call them by a different name. Did you know there are 750 teens participating in groups just like yours, in dozens of synagogues and community centers and homes all around Los Angeles?
On May 21, join with teens from all over LA for the first-ever gathering of its sort, LA Teens Together – Powered by Moving Traditions! You'll get to meet other girls and guys who participate in Rosh Hodesh and Shevet Achim—and join in fun activities and lively discussions.
Come hang with friends, meet new people, and join together for an afternoon filled with fun, food, activities, swag, photo ops, and raffle prizes including Beats by Dre headphones, gift cards to the Grove, and tickets to the Rain Room at LACMA!
Parents: We have something for you, too!
While your teens are at the convening, join Moving Traditions and parenting expert and master Rosh Hodesh group leader Bette Levy Alkazian for a special session called What's Happening with Our Teens? Teens these days have a much more complicated world to navigate and fewer skills with which to navigate it. Learn what boys and girls are going through and why so many kids have profound anxiety and lots of physical symptoms. Bette will help parents figure it all out and parent their teens with love and common sense.
Information about Bette is below; we hope you can join us!
Bette Levy Alkazian is a Licensed Marriage and Family Therapist, Parenting Coach and nationally recognized parenting expert who works with families to ease the challenges and increase the joys of raising children. Bette has worked for many years as a parent educator, speaker, and writer. She is the author of Parenting Backwards and Potty Learning: The Do's, Don'ts and the Oops of Poops and has vast experience helping people with a broad range of issues. Bette has led a Rosh Hodesh-Powered by Moving Traditions group for the past five years, where she has taught teen girlss about self-esteem issues and leadership. Her group also does a "repair the world" project each year.