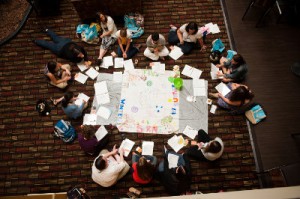 Now is the time for new group leaders to sign up for a Moving Traditions' Training Conference:
Los Angeles: June 2-4, 2013
American Jewish University
Brandeis-Bardin Campus of the American Jewish University
1101 Pepper Tree Lane
Simi Valley, CA
Boston: July 28-30, 2013
Embassy Suites Boston Logan Airport
207 Porter Street
Boston, MA
Moving Traditions' Training Conferences are thought-provoking, skill-building, and spiritually uplifting three-day seminars for the women and men who are preparing to lead Rosh Hodesh: It's a Girl Thing! and Shevet Achim: The Brotherhood groups of teen girls and boys in their communities.
Conference participants will gain an understanding of and practice Moving Traditions' approach incorporating gender and Judaism into an experiential program for adolescents. They will learn from one another in an open, inclusive, and pluralist Jewish context.
Before registering for a National Training Conference, educators must first apply to Moving Traditions to become a group leader. Approved rising group leaders may then register to attend.
In 2012, more than 110 Jewish educators were certified to lead our programs at the Moving Traditions Training Conference. Trainees came from every religious denominations and from all over North America. To see pictures from the conference, click here.
"Your training was hands down the best I've ever attended. It was productive, insightful, new, and interesting. I'm really looking forward to next year (with my group)."
— Group Leader, Agudas Achim Congregation, Alexandria, VA
"The training experience was phenomenal, we learned why this approach is so necessary in American Judaism today and we learned how to successfully implement the program into our community."
— Group Leader, Temple Sinai, Denver, CO